Robots as content producers – not an issue
Our publisher partners all tell a similar story. Their readers have no issue with robots producing the content they read. What matters is that readers have access to the information they expect from their local publisher. And sometimes the publisher just doesn't have the reporters to cover it all.
This is how the publishers we work with think about their readers in the context of automated content:
Fulfil reader demand
Many publishers decide to start using automated content, because they spot a demand for information that's greater than what they can manually supply.
Mittmedia: Unmet demand for real estate news
Swedish local media group Mittmedia, identified an unmet demand for stories about house sales. The data showed that lots of logged-in subscribers were reading real estate texts, and the signs were that if they were able to publish more of this content, more would be consumed. Mittmedia started using our very first real estate content service back in 2017 (see graphs), which meant that the average number of articles published per local site went from two a month to 480 a week, driving both conversions and retention for the publisher.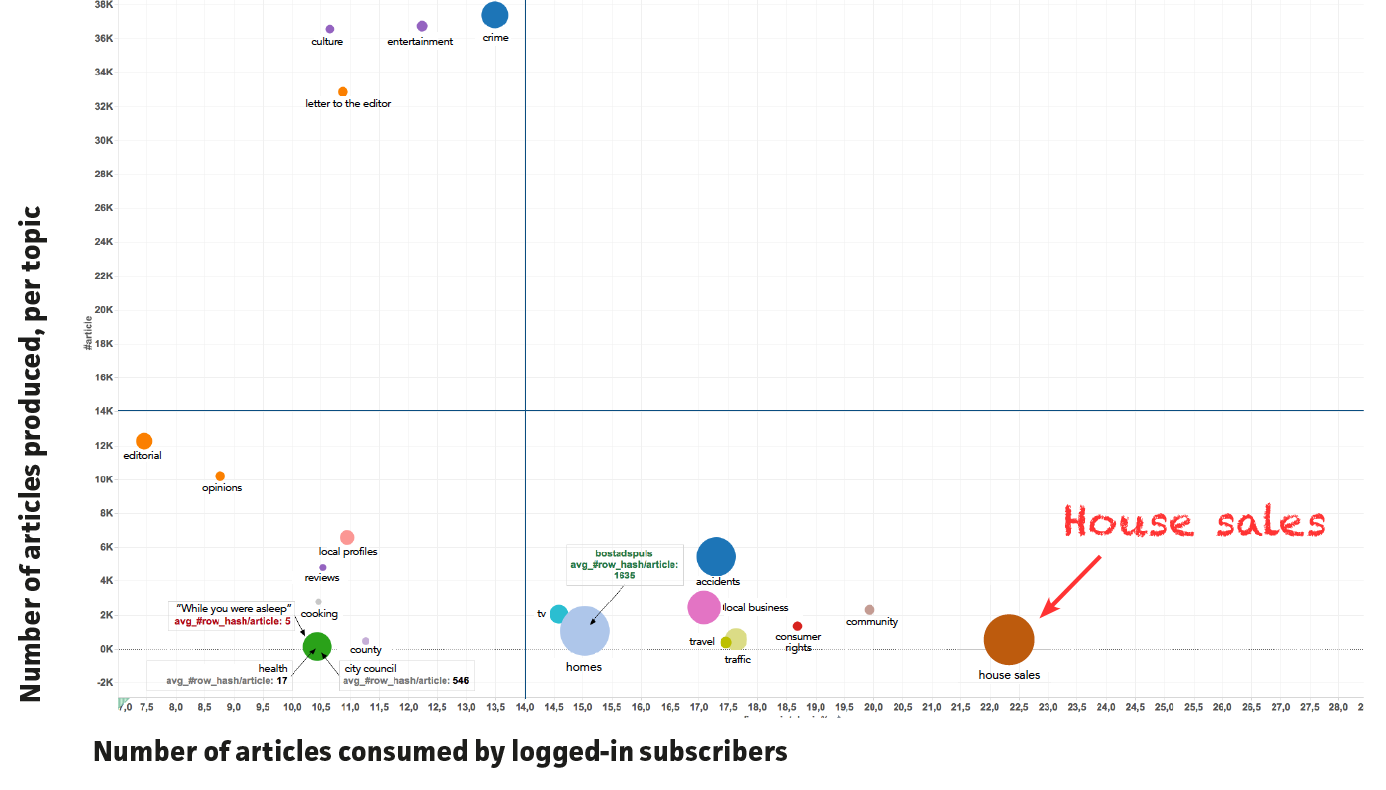 Spotting the demand. Swedish local media group Mittmedia decided to deploy a real estate robot after an analysis of consumed content showed that there was a lot more demand for stories on house sales than the local newsrooms could produce (top). Once the robot was put to work, the volume went from 2 published articles a month to 480 a week / site (bottom) across 20 sites.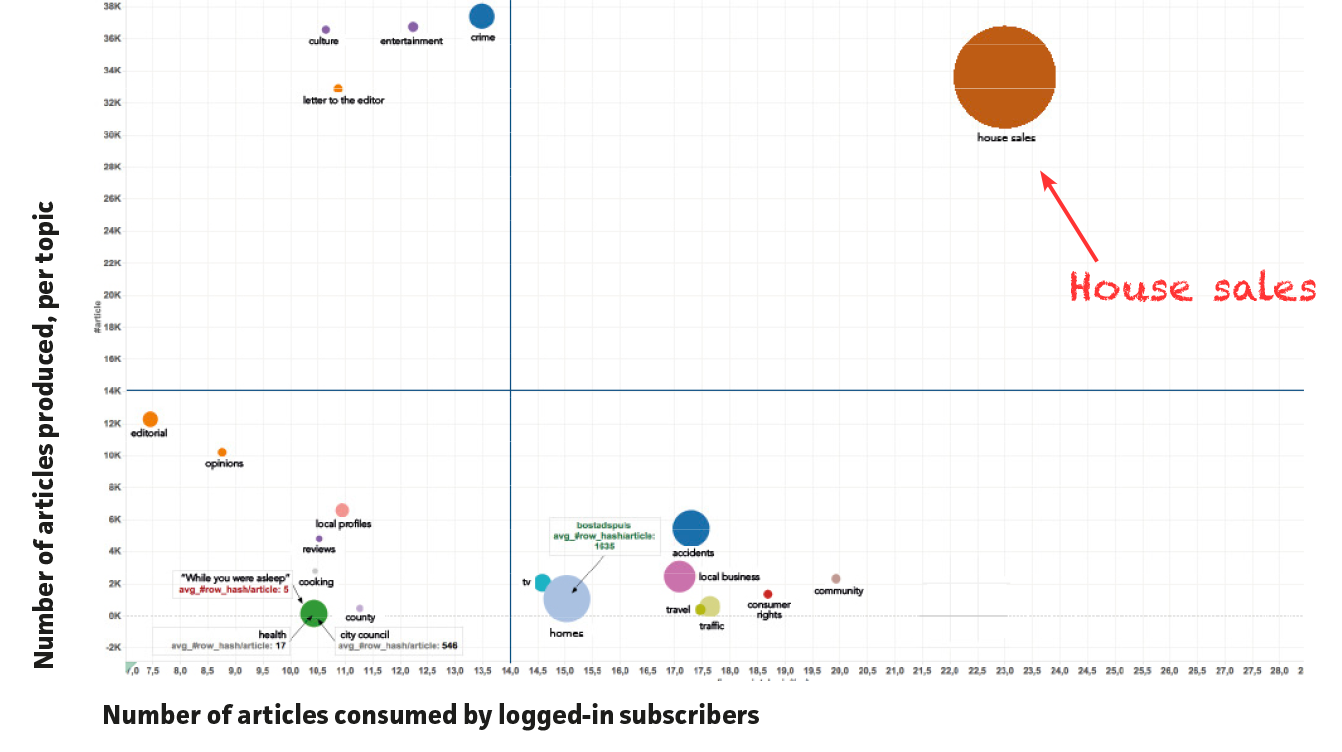 McClatchy: Producing content that drives new audiences
The decision to start testing content automation in some of US local media group McClatchy's newsrooms followed "brainstorming to look at our gaps", according to Managing Editor Cynthia DuBose. "What content and topics were audiences looking for that we didn't have?"
The team realised that many of the topics driving new audiences were information topics like real estate, high school sports, restaurant reviews – content the newsrooms did not have the manpower to cover. "We want our journalists to produce journalism, not track down information. They should focus on what they are skilled to do."
Be transparent
Almost all of our publisher partners are transparent with the fact that robots produce the automated texts – i e the byline includes the word bot or robot. In Sweden, where newsroom robots have been a common occurrence for the past five years, readers don't really notice any more. And the feeling elsewhere is that readers are not particularly worried about or interested in how the content is produced, their focus is on finding the information they need.
McClatchy: Make it easy to get in touch
McClatchy's automated texts all carry a bot byline, like "By the SacBee bot", as well as a disclaimer which explains that while a robot wrote the text, editors were involved in the process and quality control. There's also an email address for feedback, which goes to Managing Editor Cynthia DuBose. "I've not had any negative feedback, it's been more about readers asking for more information, like covering more high schools [sports] or additional zip codes [real estate]." McClatchy have also decided not to use the term "robot journalism", as journalism is something only their journalists produce. Instead they talk about automated information, and with a focus on the data that lies at the heart of it.
Bergens Tidende: Byline and disclaimer
Norwegian regional title Bergens Tidende has a clear byline at the top of the automated real estate stories they publish which reads: "The real estate bot. This article is automatically produced, not written by BT editorial staff. The data is gathered from public sales records and [the database] Eiendom Norge".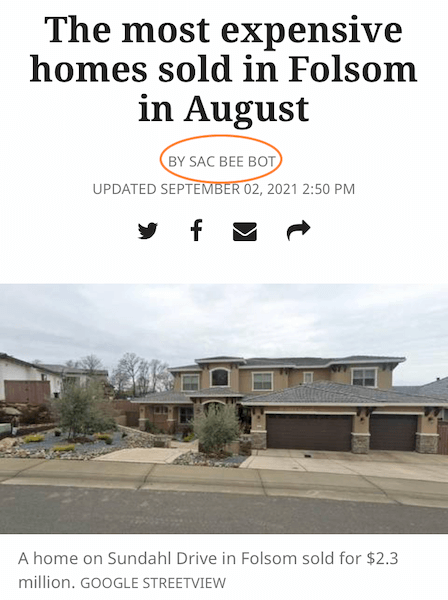 DC Thomson: Explaining why
Scottish local media group DC Thomson publish automated match reports from local youth football leagues on the site of their Aberdeen title. The articles include a byline box which explains how the texts were generated, but also why the publisher has decided to use robots – "as part of the Press and Journal's commitment to local sport."

NTM: Readers used to robot texts
"When we first started doing automated content, in 2018, we produced editorial explanatory pieces on how we use robots, but we have not talked about that recently. Our readers are now so used to the fact that we publish robot texts," says Jens Pettersson, Chief Digital Reader Revenue Officer at Swedish local media group NTM.
Reader survey from our first partner publisher
Swedish local media group Mittmedia, United Robots' first publisher partner, did a reader survey in the first year of publishing robot generated content. The worry had been that the texts were too "robotic" – but the vast majority of readers did not notice that they hadn't been written by a reporter. Today, readers are used to robot texts, and, as NTM's Jens Pettersson points out, it's not something they have an issue with.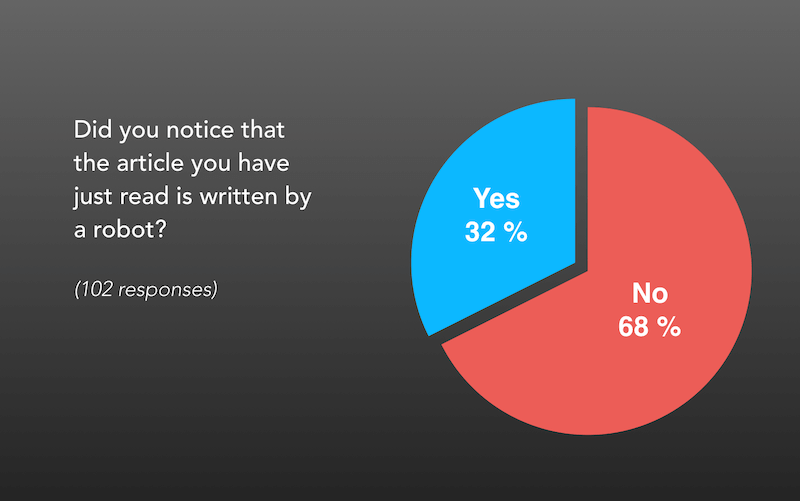 Address
United Robots AB, Djäknegatan 9
211 35 Malmö
Social