Fully managed news automation services
Automated content directly to your CMS or users.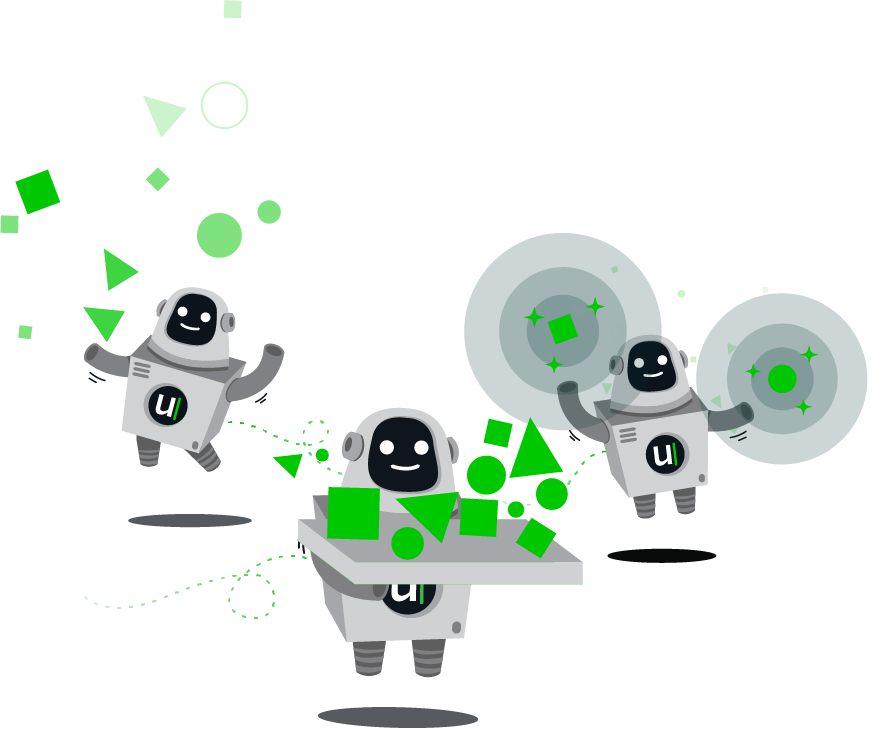 We build the robots, so you don't have to...
How our content-as-a-service model saves you the heavy lifting
Have you considered deploying automated content to free up time in the newsroom, drive business effects, and extend your editorial coverage?
United Robots offers content-as-a-service, which means we build the robots and send the automatically generated content they produce straight to your CMS, sites or apps.
Many other content automation suppliers just give you a login to a self-service interface and leave you on your own with a lot of work on your hands. That's not really automation, is it?
Here's how our content-as-a-service model compares in terms of the work involved: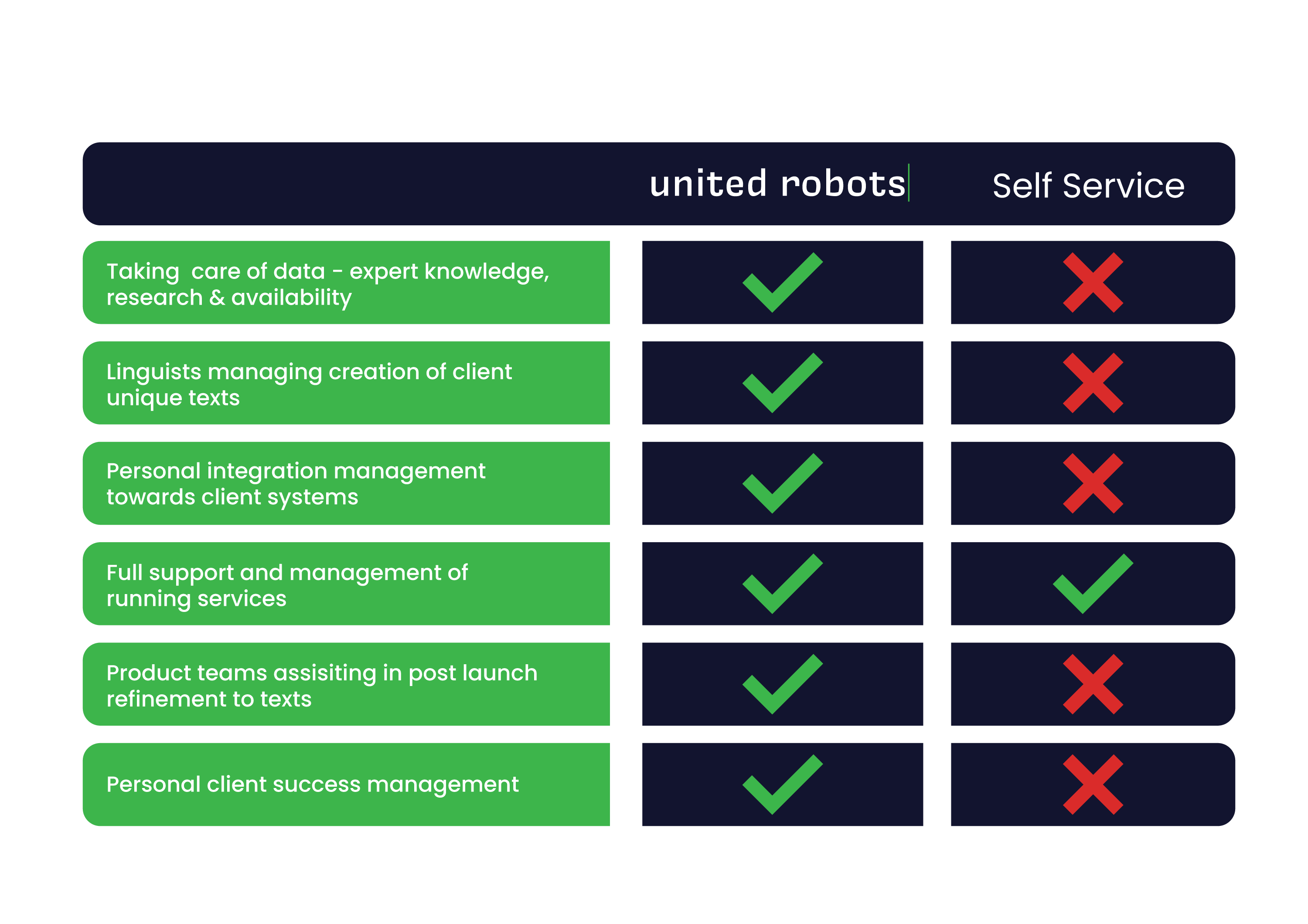 Our content-as-a-service features
Taking care of data – knowledge, research, availability
You don't have to be a data expert to make automation work. We are. We take care of research, collection, and structuring, securing the best data available for your needs.
Personal onboarding and linguists – unique text concepts
Our staffing includes experienced experts on computational linguistics. During your onboarding phase, they implement unique text options in the robot, according to your newsroom guidelines and preferences.
Streamlined and personal integration
Does automated content seem like a complicated tech project? It isn't. We have streamlined processes for setting up the delivery of texts and articles, and we lead the implementation process, including integration and delivery into the client side content system/CMS.
24/7 support and maintenance
Once we've started the distribution of automated content to you and your readers, we take full responsibility for maintenance, securing accurate and reliable delivery at all times.
Continuous improvement of products
After the first successful publication of articles, we continue to improve and refine together. In a collaborative process and with a joint road map, we collect input from newsrooms and readers, and work toward enhanced content services and newsroom tools.
Success support and problem solving
We have years of experience working with publishers and automation, and we make that experience available to you through our personal success managers. They help you solve problems and maximise the business and journalism effects you can achieve through news automation.
What our clients say

Jan Stian Vold, Project Lead at Bergens Tidende (part of Schibsted) in Norway, who publish our automated real estate content to drive subscription sales:
A key success factor for the project has been how responsive the United Robots team have been to ideas I've had – the route from idea to impact and increased value is short. It's been fantastic to work with developers who are just as keen to drive innovation as I am. With projects like these, there's always a risk that you launch and leave, but the United Robots team continue to walk that extra mile to keep improving the content."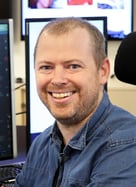 Mads Ommundsen, Project Lead at Fædrelandsvennen (Polaris Media Group) in Norway, who publish automated real estate articles, with the goal of the content paying for itself through subscription sales and increased article views.
"It's early in the collaboration, but I have a very positive impression of United Robots as a supplier. We've only needed four weeks to launch the service on our site. I think this is in large part due to United Robots' developers being just as keen as we are to get it all up and working well. I feel safe in the knowledge that this positive partnership means we'll be able to make this service even better going forward."
The United Robots launch sequence at a glance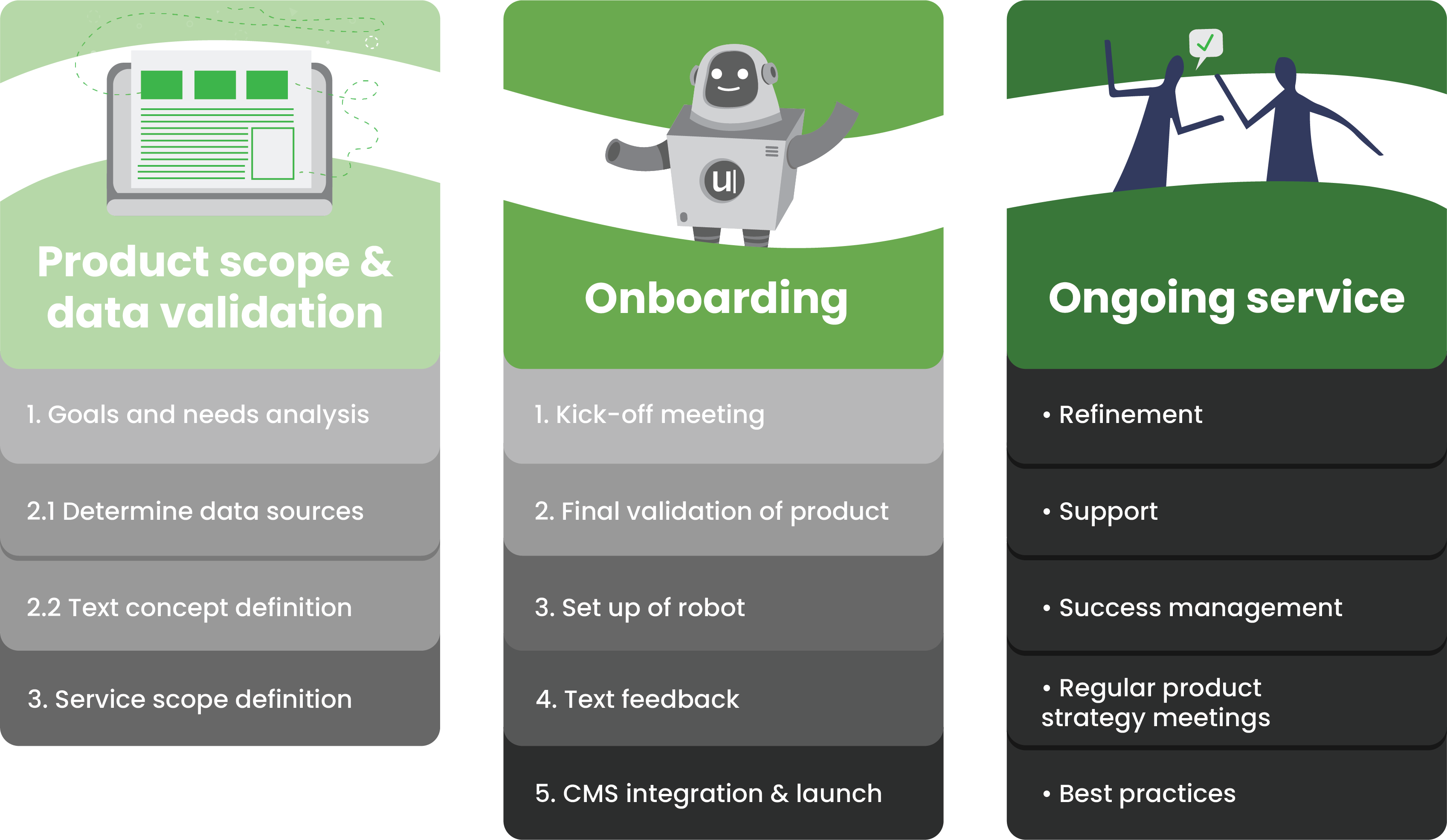 Address
United Robots AB, Djäknegatan 9
211 35 Malmö
Social