The news automation resource library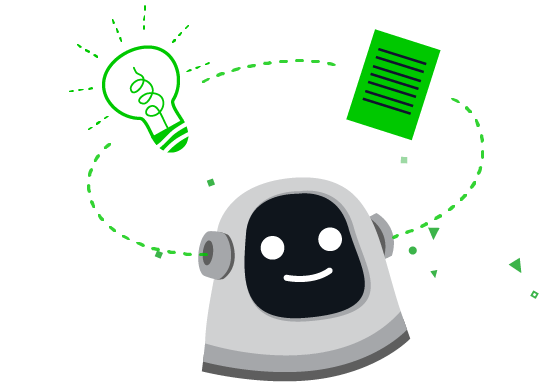 Are you considering automated journalism?
This is our growing library of free, in-depth news automation resources accessible to everyone. Download and explore! (And please give credit if you quote us.)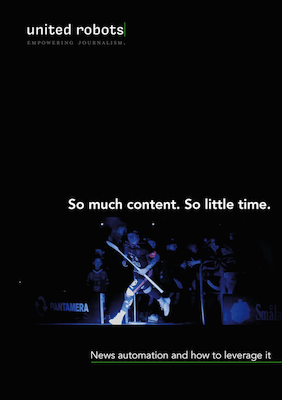 News automation and how to leverage it
A good place to start is our whitepaper. Twelve pages which will give you a basic understanding of the effects news automation can have on journalism and business. How can it free up reporter time? How can it help cover underreported communities? Why is a clever distribution strategy so important? How can it help launch new sites in no-time?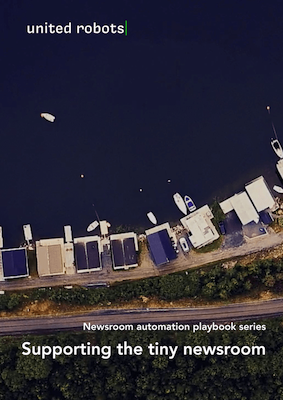 Automation supporting the local newsroom
In this Playbook you'll learn how a local newsroom automate news reporting. Swedish Bärgslagsbladet / Arboga Tidning has five reporters and a chief editor. Thanks to robot texts they a) can cover all matches of all local sports in multiple divisions, which b) frees up reporter time to work on the journalism that really engages readers. Editor-in-Chief Helena Tell tells the story.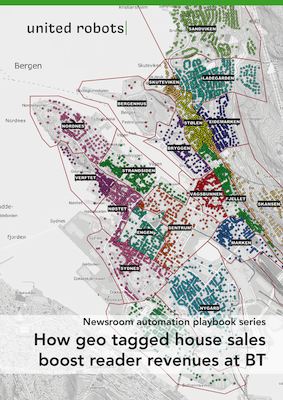 How geo tagged house sales boost reader revenues
Our Real Estate Playbook tells the story of Bergens Tidende in Norway, and how they set up a Home Sales vertical, populated it solely with automatically generated content (articles, maps, images, graphs) and within a couple of months had created a steady new revenue stream of new subscribers.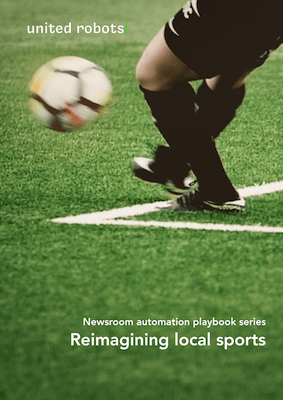 Reimagining sports
In the Sports Playbook you'll learn how news automation support 10 regional sports desks at Mittmedia.
By 2015, Mittmedia's local sports journalism had dead-ended into a struggle of disjointed coverage, high freelance costs and little effect on reader engagement. This is the story of how automation helped their sports editors turn the ship around, turning sports into a driver for reader revenues.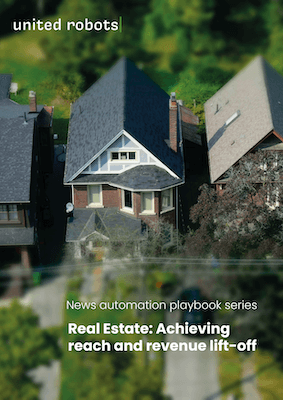 Real Estate: Achieving reach and revenue lift-off
In this guide we've collected best practices, insights and guidance to help publishers get started with automated real estate content. You'll get to know the automated real estate content, understand the value it can bring you and get guidance on how to nail the strategy and work out distribution and promotion.
Content-as-a-Service – we do the heavy lifting
We offer content-as-a-service, which means we build the robots and send the automatically generated content they produce straight to your CMS, sites or apps. We look after data sourcing, language, integration, support and success management. You publish the stories.
Robot Journalism is Happening Now
Automating editorial content creation is no longer a thing of the future. Our robots support newsrooms with routine reporting on sports, traffic updates, house sales, new company registrations, weather and more. Here's how.
Journalists & robots working together – the story in 1 minute
The world's newsrooms face a double challenge: Producing more relevant journalism for their readers, with fewer editorial resources. Here's how United Robots can help:
How we use NLG to turn structured data into multiple texts
We use Natural Language Generation to turn structured data into multiple texts, with different angles and aimed at different audiences.
How Mittmedia use robot articles to meet demand for home sales content
Swedish local media group Mittmedia analysed their online content consumption and found that demand for articles about home sales significantly outstripped supply. Our Real Estate Robot was born.
Cover all sports, always
Swedish local media group Mittmedia (some 20 news sites) decided to automate all the match reporting of all divisions of all sports.
The result: In one year, Sports went from having no real impact on the reader revenue business, to driving 30–40% of all digital subscription sales.
How one newsroom robot drives significant revenue
Robot journalism supports a growing number of local newsrooms. Jan Stian Vold at Bergens Tidende in Norway discusses the quality, strategy and business of news automation at BT and how the robot has created a new revenue stream without any impact to the newsroom.
Automated journalism – Meet the publishers who advocate it
A majority of Scandinavian newsrooms now leverage robots for routine reporting. Find out why they believe in automation, how it fits into their strategy and what the daily challenges and benefits are.
How NDC will use robots to cover 60,000 local football matches
Dutch regional media group NDC is using an army of robots as it ups its game when the first post-Covid football season kicks off. Sport Project Manager Ard Boer tells the story of how and why.
How Omni provides crucial coverage with Corona Watch
In March 2020, Swedish news curation site Omni (Schibsted) deployed United Robot's news desk tool Corona Watch, helping them to stay instantly and automatically updated on news and directives from all of Sweden's regional health authorities.
How newsroom robots can boost sports reporting
It's 2020 and competitive sports have stalled. We suggest Sports desks to consider how they can super charge their reporting past-crisis. Like Swedish local media group Mittmedia had done when it deployed robot written match reports to free up reporter time. Henning Johannesson, Head of Product at United Robots, and ex Head of Sports at Mittmedia tells the story.
How robot journalism is powering the modern newsroom
Cecilia Campbell of United Robots helps myth-bust some of the common fallacies about what robot journalism can – and can't – do.
To help illustrate what is possible we're also joined by Ard Boer, Product Manager for Sport at NDC Mediagroep, who tells us how their sports team is making the most of robot journalism.
Real Estate content as revenue driver
Our automated Real Estate content boosts conversions and retention as well as CPM levels for local news publishers. Publishing the content in Home Sales verticals, they create traffic and engagement where previously there was none. And with no impact to newsroom resources.
Address
United Robots AB, Djäknegatan 9
211 35 Malmö
Social