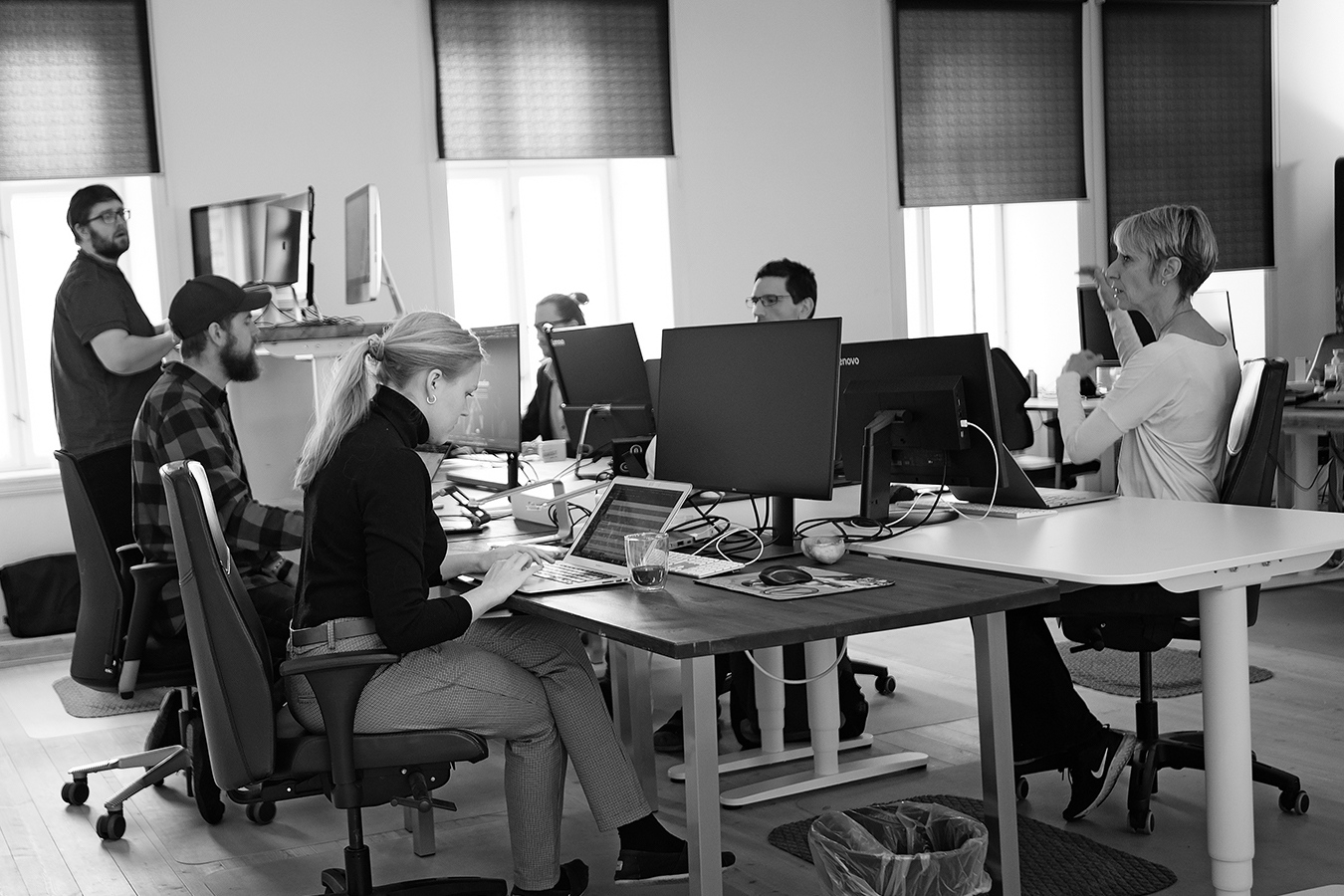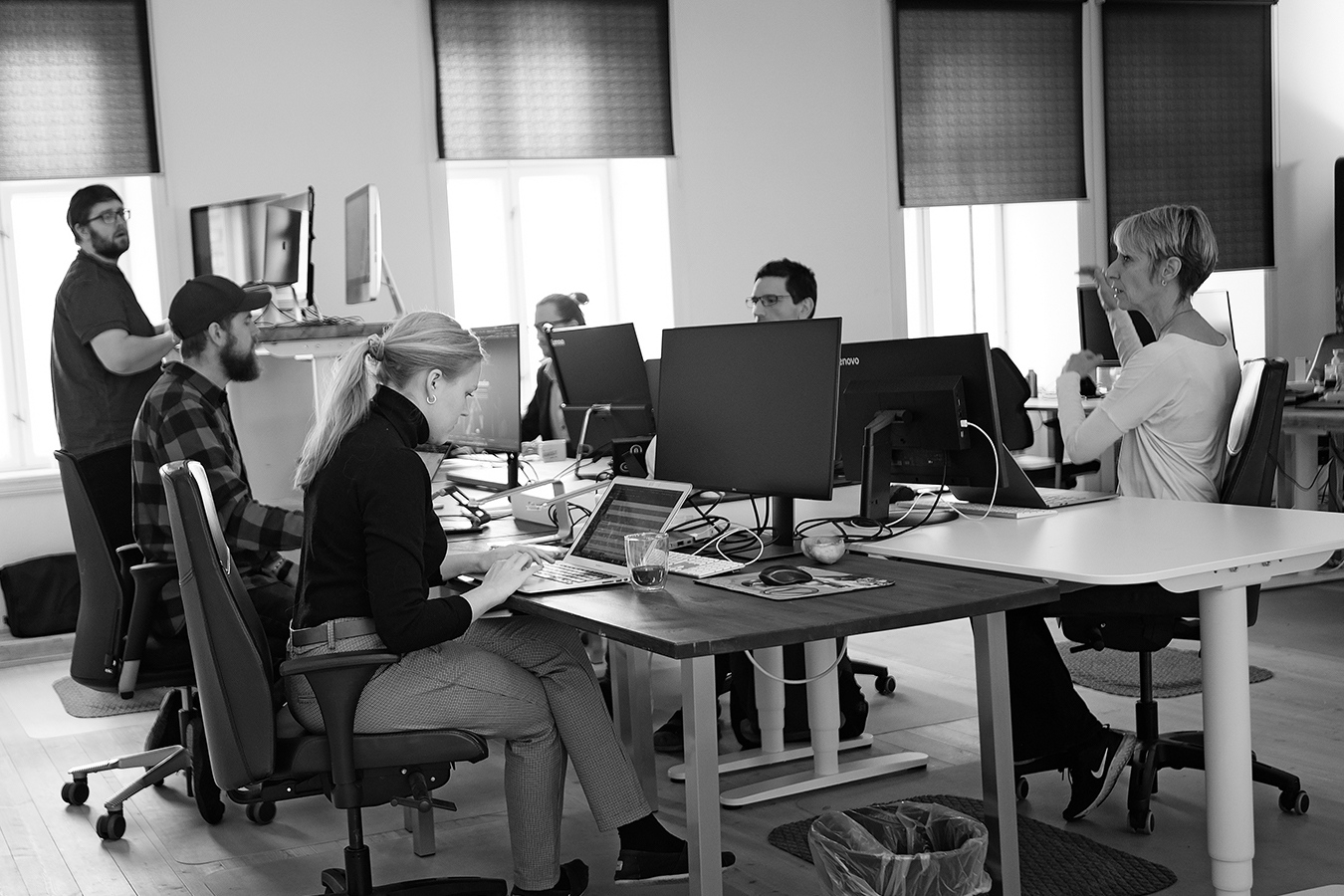 A pioneering posse...
a trusted tribe…

a rising ruck…


…of robots
(We love language... but have found there's no established collective noun for "robots"... feel free to email us suggestions!)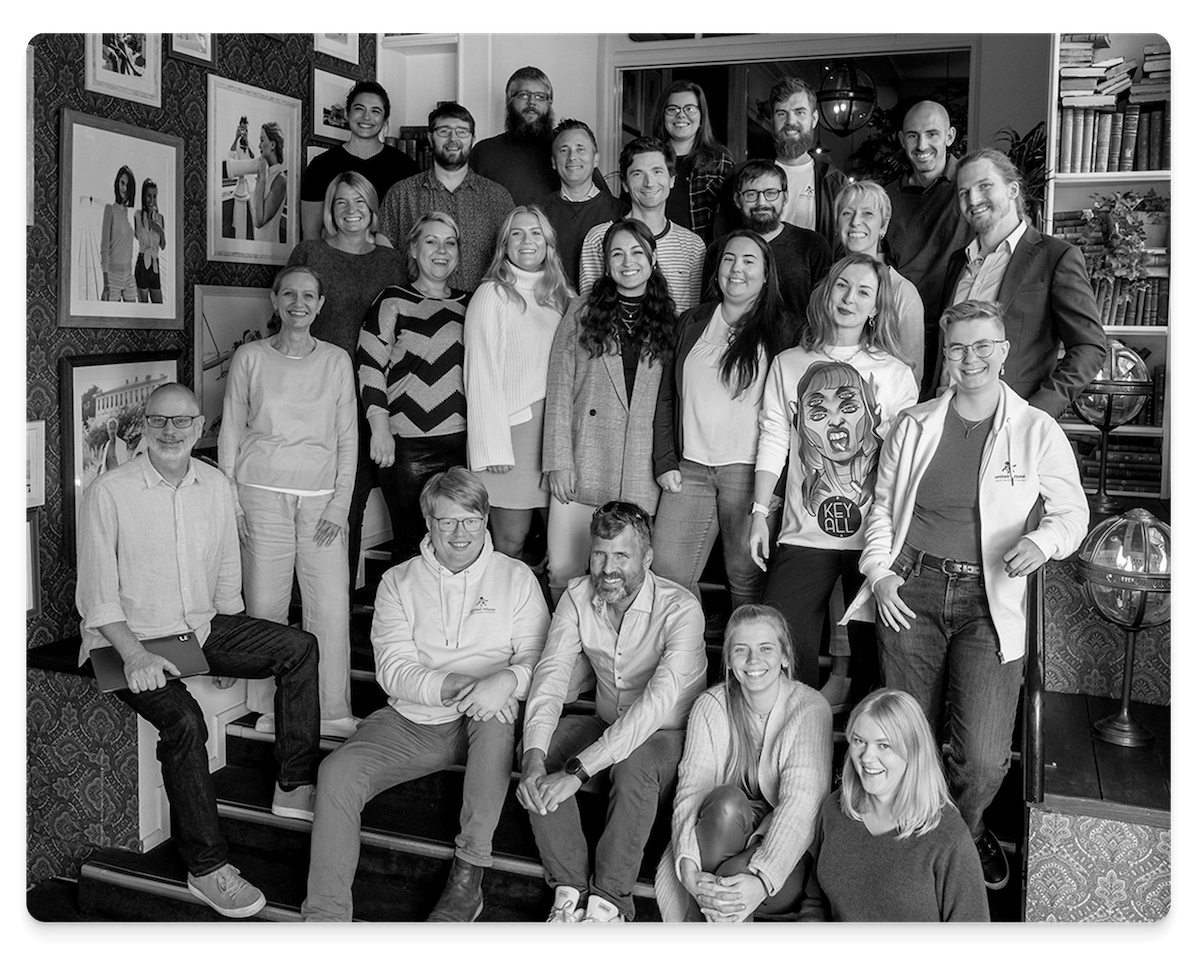 United Robots is a Swedish tech company. What started as a proposition back in 2015…
"Hey, would it be possible to automatically write match reports based on this sports data?"

…has evolved into a band of robots writing stories based on any data you like in any language you like.
We've created our own, unique Content-as-a-Service product based on data science, AI and NLG (Natural Language Generation). A giant content factory, delivering thousands of pieces of automated texts, images, graphics, maps, metadata and more to our clients every single day.
Timeline
It all started with one robot…
2015
Spotting the opportunity
Local media group (Mittmedia) with too many sports matches to cover + Sweden's biggest sports database (Everysport) with more data than they know what to do with = Our first text robot, taught by Henning Johannesson @ Mittmedia. The first match text published was about a division 1 bandy match, published on bandypuls.se
2015
Tiger tamers!
Names of early platform and products have an animal theme. The NLG engine is named Sigge after Siegfried & Roy, of tiger taming fame. Sigge remains Sigge to this day.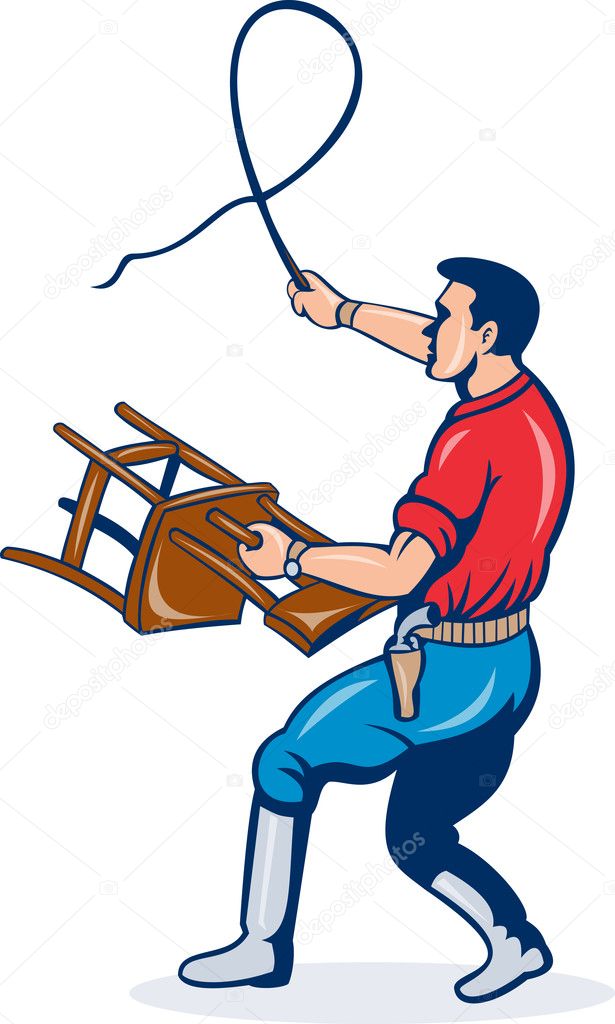 2016
The green light
Mittmedia spends the winter feeling out readers and reporters about the automated stories. The response is positive. In May United Robots is registered as a company.
2016
Parroting people
The first logo is modelled on Rosalinda, Pippi Longstocking's parrot, who has also given name to our Sports Robot. "Parrots don't actually talk, they just repeat what people have taught them. Seemed appropriate," says CTO Lars Widmark.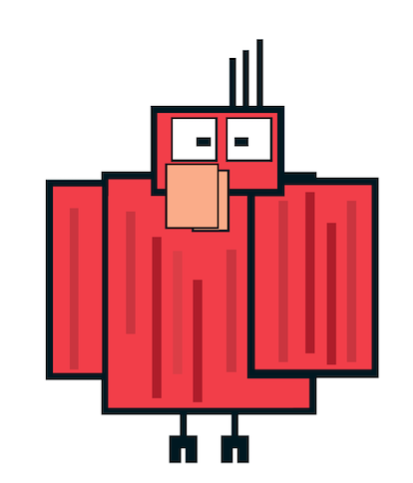 2016
All in the cloud
From day 1 the United Robots platform is run as an Functions-as-a-Service product in Amazon Web Services. Serverless builds are very much not the default at the time.
2016
Across the Baltic
Swedish language media group HSS in Finland becomes the first client outside Sweden, where more local media groups have now also signed up.
2016
Awards #1
We're nominated in two categories of the Swedish MEG media awards – Startup of the Year and Innovator of the Year.
2017
Robot #2
Mittmedia spots a gap in the editorial output. Analysis of what people read on site reveals a big demand for stories about house sales. The Real Estate Robot is born.
2017
Awards #2
Regional football vertical Klackspark, 70% of which is filled with robot written match reports, is nominated for Best New Idea in the Swedish Media Awards (Årets Dagstidning).
2017
Sauna + Sea
In May we start a new tradition – the yearly team Spring Conference. Sweating it out in a sauna and then jumping in the sea is an integral part of it. @ Bjärred

2017
The interviewing robot
We secure innovation funding from Vinnova for a revolutionary idea: let the Sports Robot send interview questions to team coaches after each game via text message. Our Q&A service is born (by 2020, 1000+ coaches are signed up).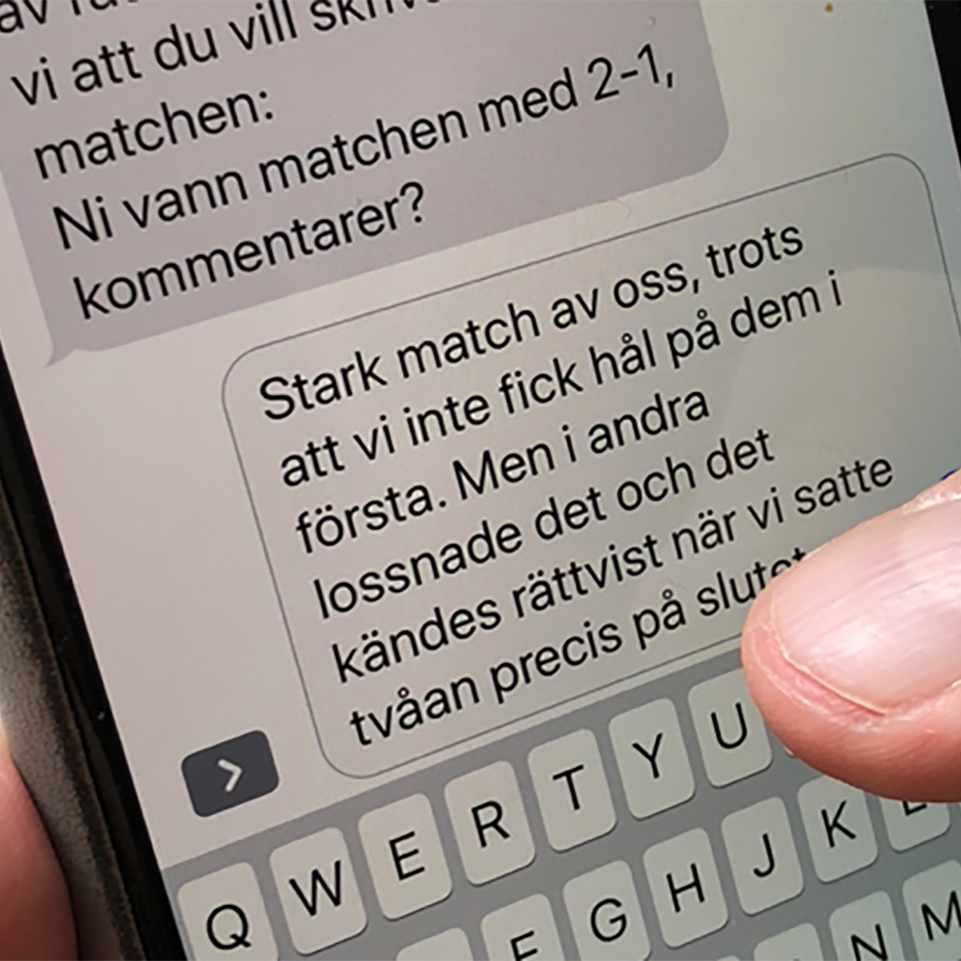 2017
Awkward!
Teaching the Real Estate Robot what an actual house in Google Streetview looks like requires an ML algorithm, which we put in place after this refuse lorry got in the way...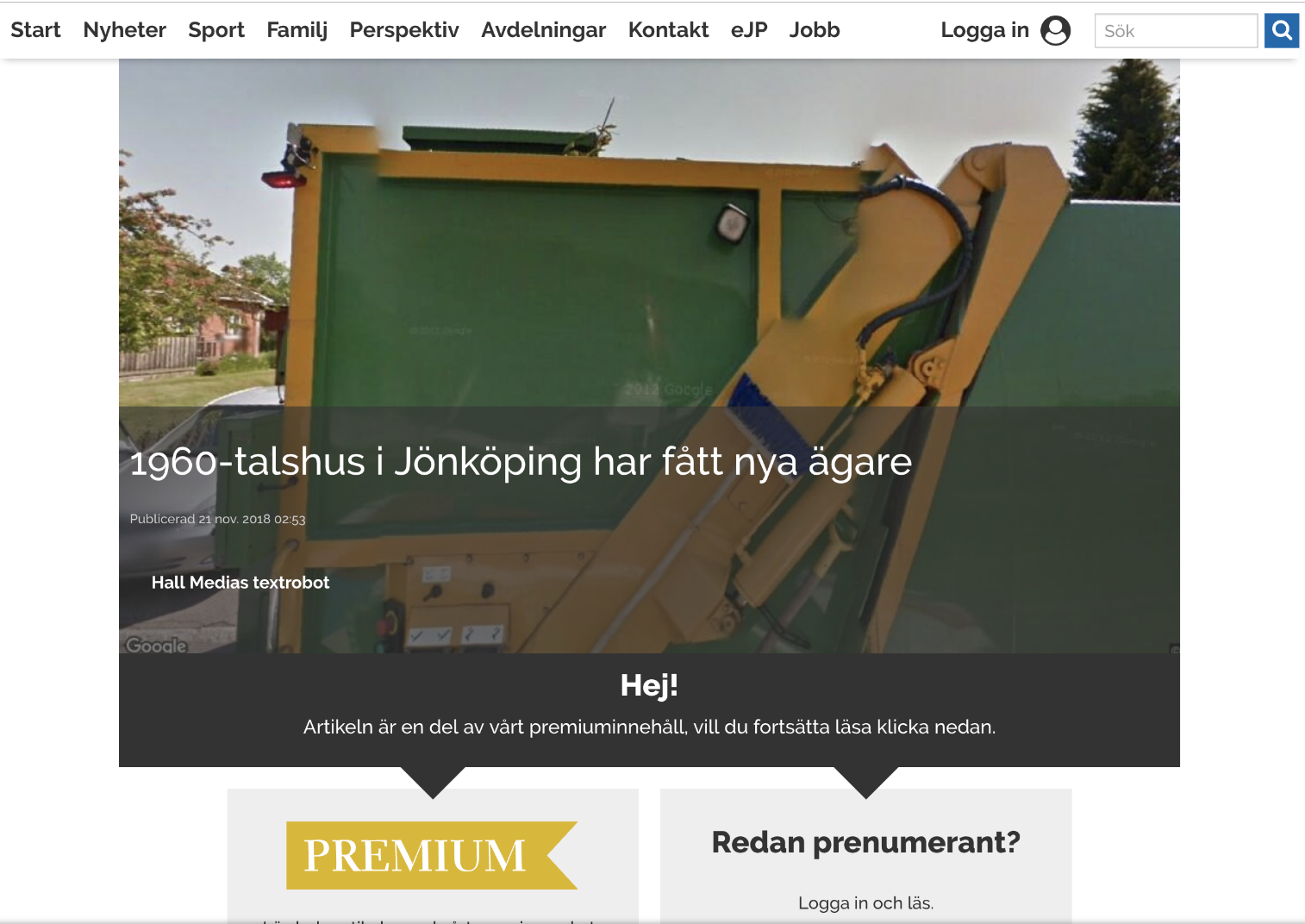 2018
We're at SXSW
Our session "The Humanoid Future of Journalism" in Austin is filled to the rafters as we explain how robots as resources are now a part of daily newsroom life in Scandinavia and soon will be everywhere.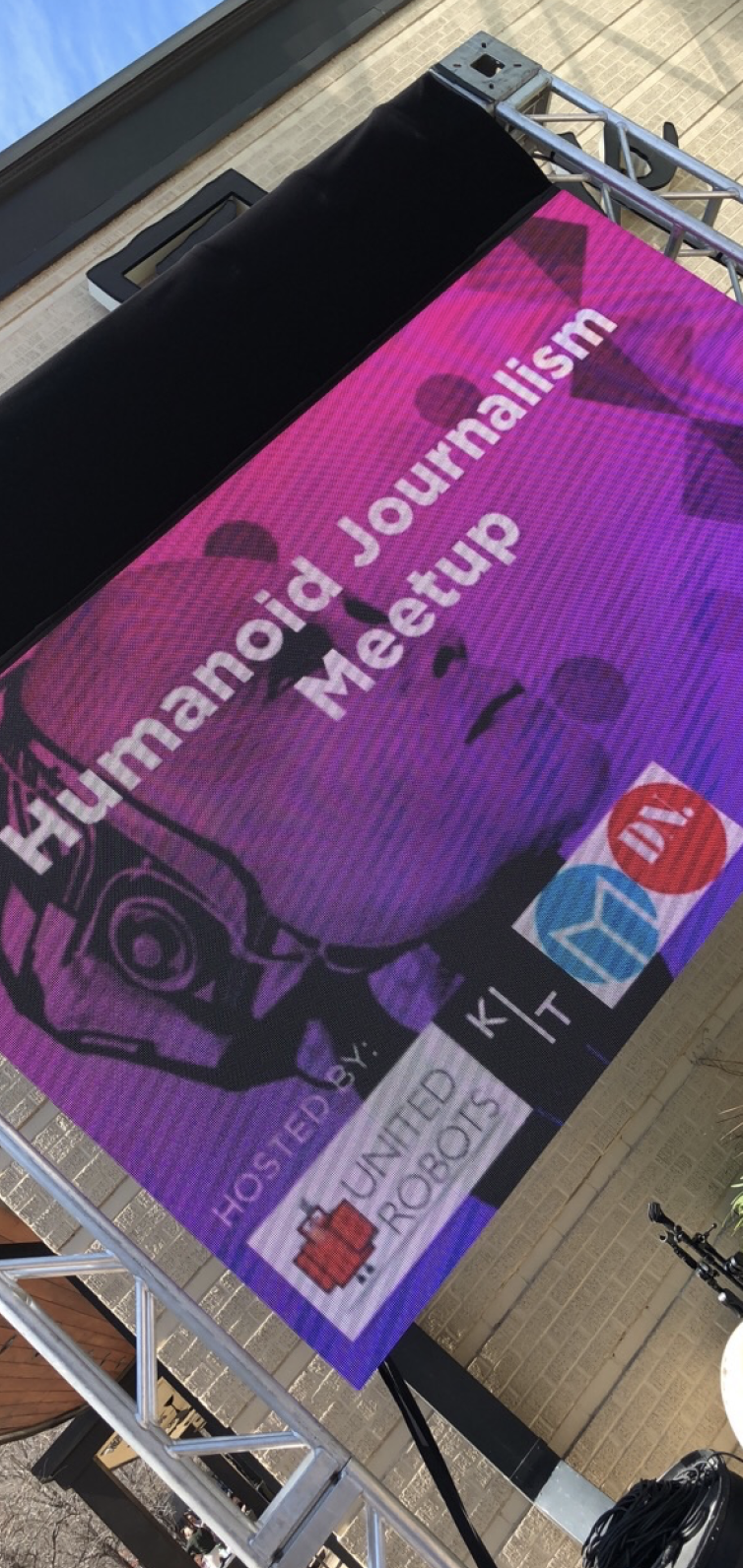 2018
Awards #3
We scoop up second place in the Excellence in Data-Driven Product Development category at the BIGGIES awards in New York.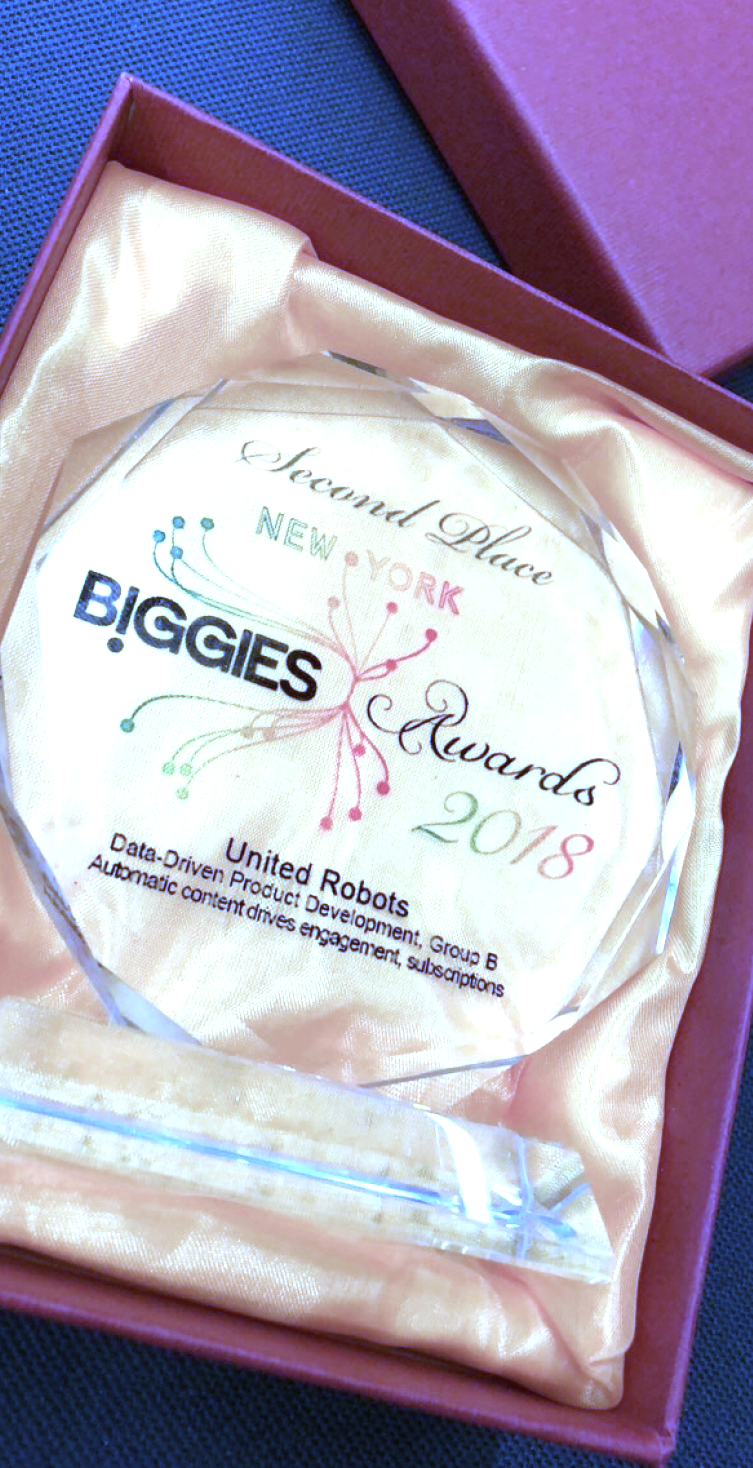 2018
Awards #4
Mittmedia win two categories at the INMA Global Media Awards in Washington DC for their deployment of our Real Estate Robot.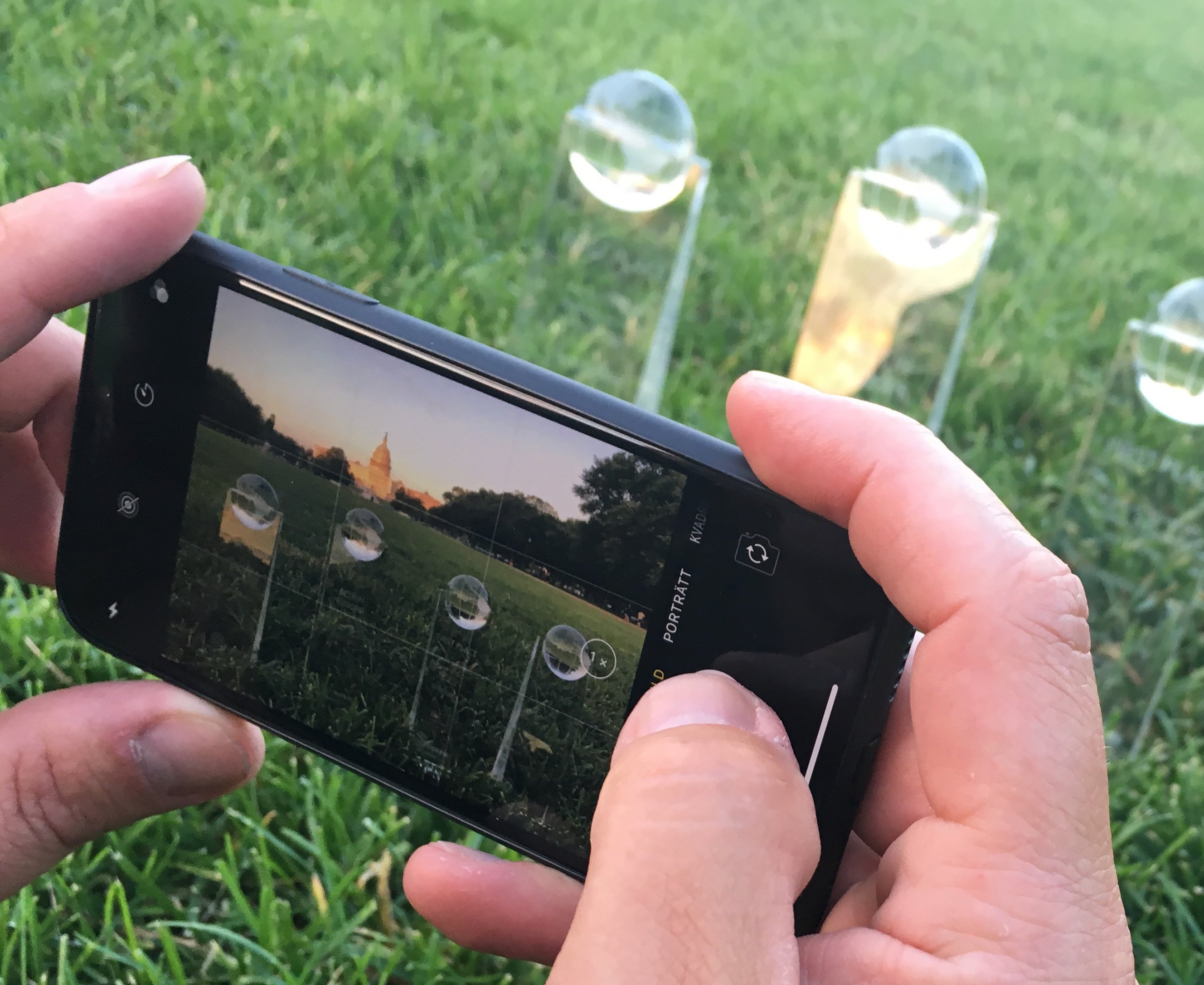 2018
Three local media groups go all in
As 2018 draws to a close, three of Sweden's largest local media groups – Mittmedia, NTM and VK Media – sign up for all the robot content we can throw at them. "The text robot is not replacing our journalists, but rather it helps us prioritize correctly how we use our resources," says Mittmedia's Carl-Johan Bergman.
2019
Robot journalism is officially the future
Scandinavian media giant Schibsted publishes the 2019 edition of their Future Report. United Robots are featured and Aftonbladet Managing Editor Michael Poromaa writes that the use of robot journalism is "one of the biggest revolutions in the history of Schibsted."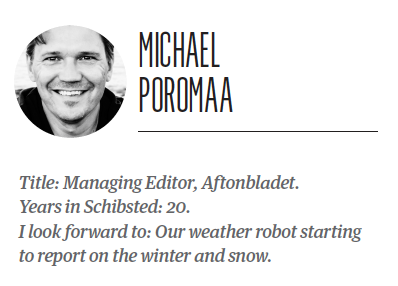 2019
We sign up Schibsted
The deal is done – Scandianvia's most progressive media group goes from pioneering robot journalism at Aftonbladet to enabling all their news brands to use it.
2019
One million milestone
On June 5 we pass 1 million texts delivered to publishers since that first bandy article.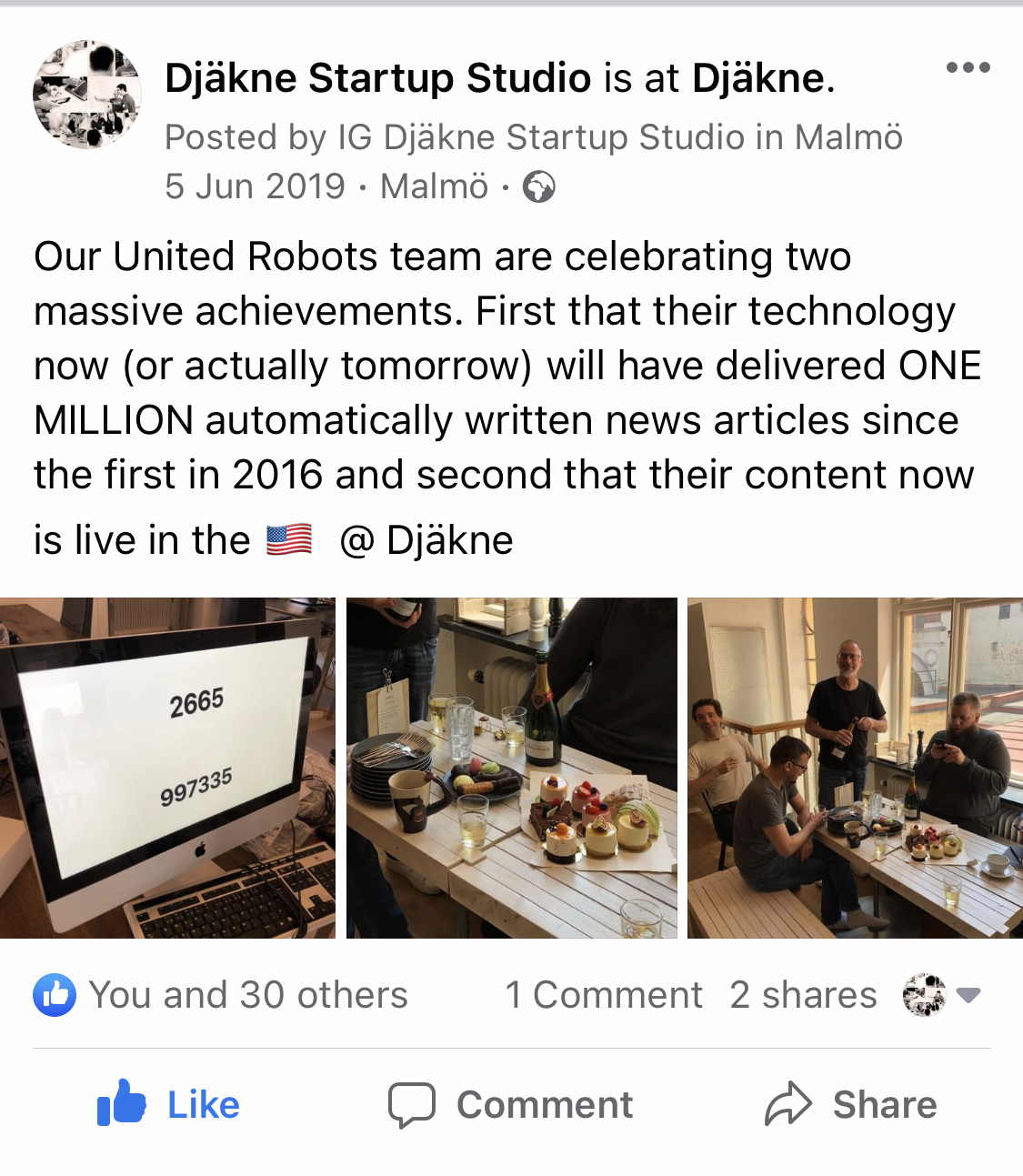 2019
The team keeps growing…
...and at the annual Christmas craft & champagne session we celebrate heading into a new decade with all engines firing. While making robot Santas for our clients.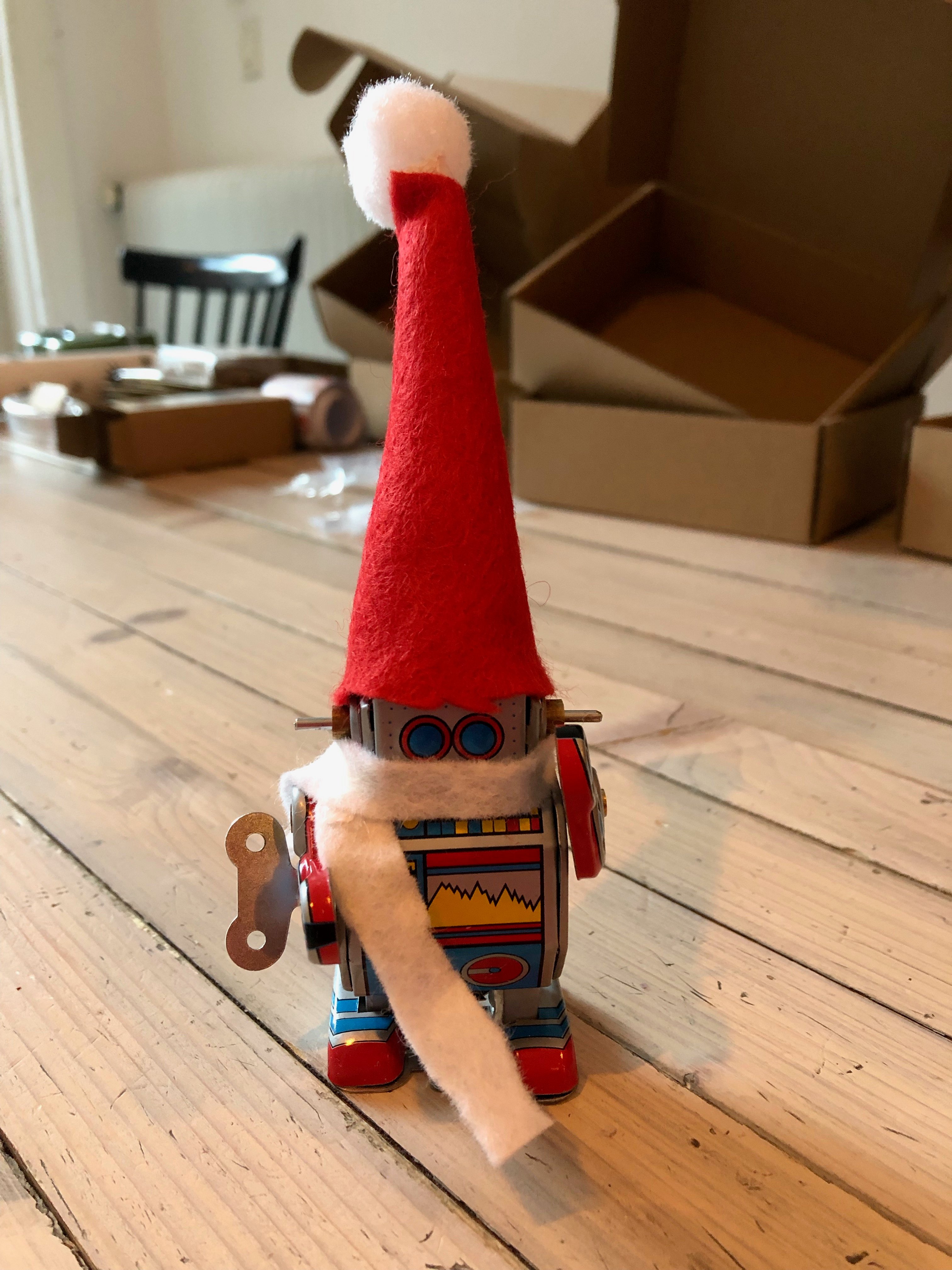 2020
Awards #5, #6
We submit entries of our successful Q&A service for Swedish as well as Global media awards. Non-publishers never get picked – but our interviewing robots are nominated for both, and secure a third place in the latter.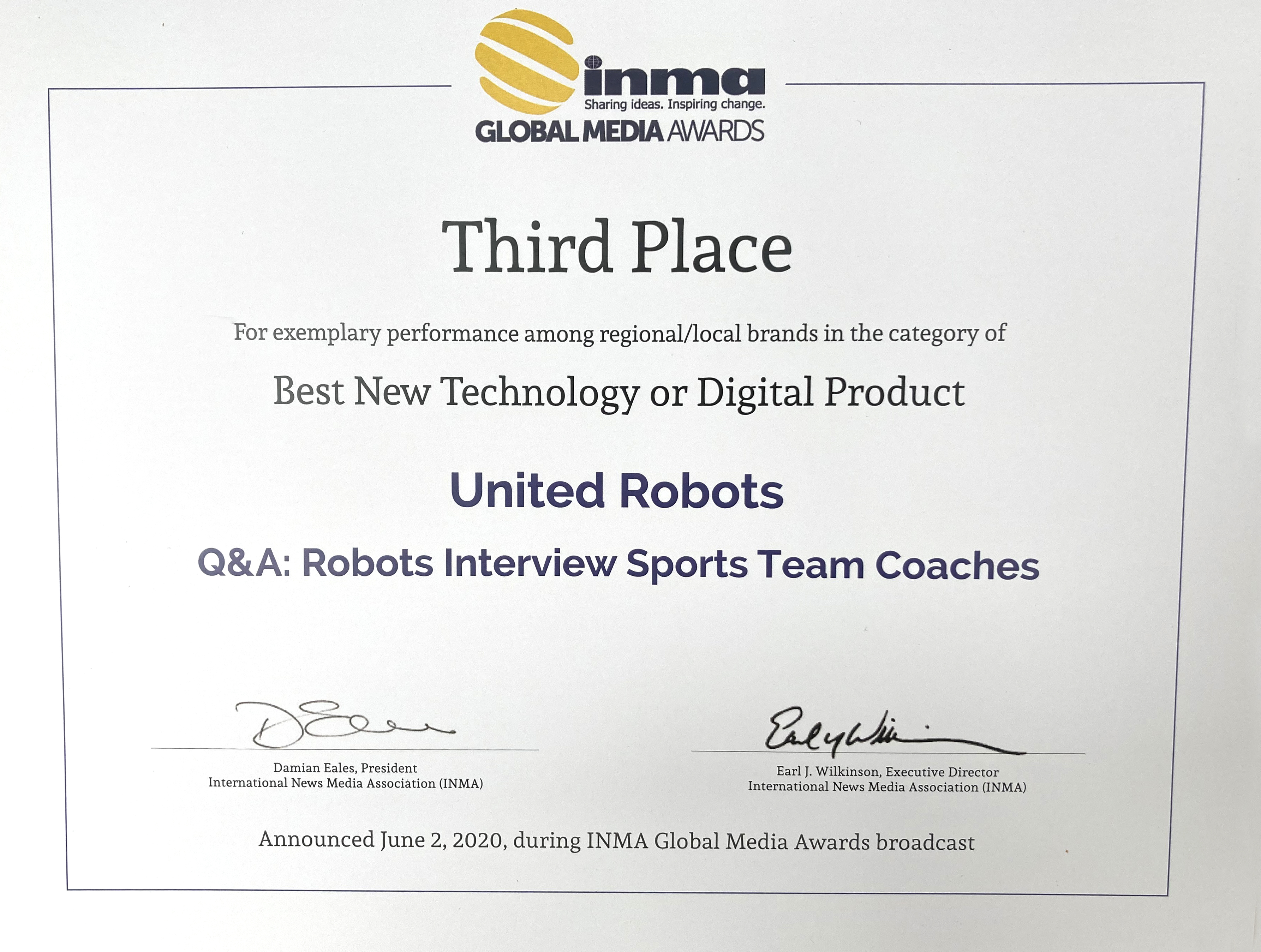 2020
Fake news!
A young football fan applies for a reporter job at a Swedish local media sports desk, attaching a sample article he claims to have written. In fact – the editor spots – it was written by our Sports robot.
2020
Automation traction
In the wake of the pandemic, digital transformation is super-charged and with it, automation. By the end of a challenging year we have robots running in Sweden, Norway, Finland, the US, Canada, Germany, Belgium and the Netherlands.
2020
We make the Tech Fast 50
2020 ends on a high. We make Deloitte's Sweden Technology Fast 50 list of fastest growing tech companies in Sweden. We're #37 with a 582% net revenue growth over the past 4 years.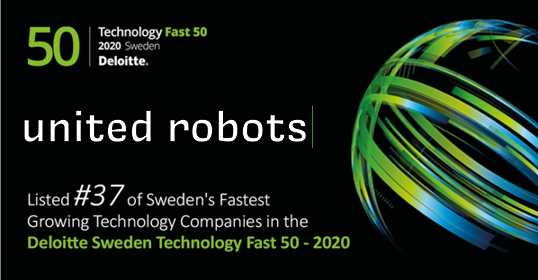 2021
One of Sweden's best kept startup secrets
Breakit.se, Sweden's leading news site covering new business, has identified the country's 30 most promising, yet unknown startups – missed, undervalued and ready to take over – and United Robots is one of them. (Born at Djäkne startup studio in Malmö)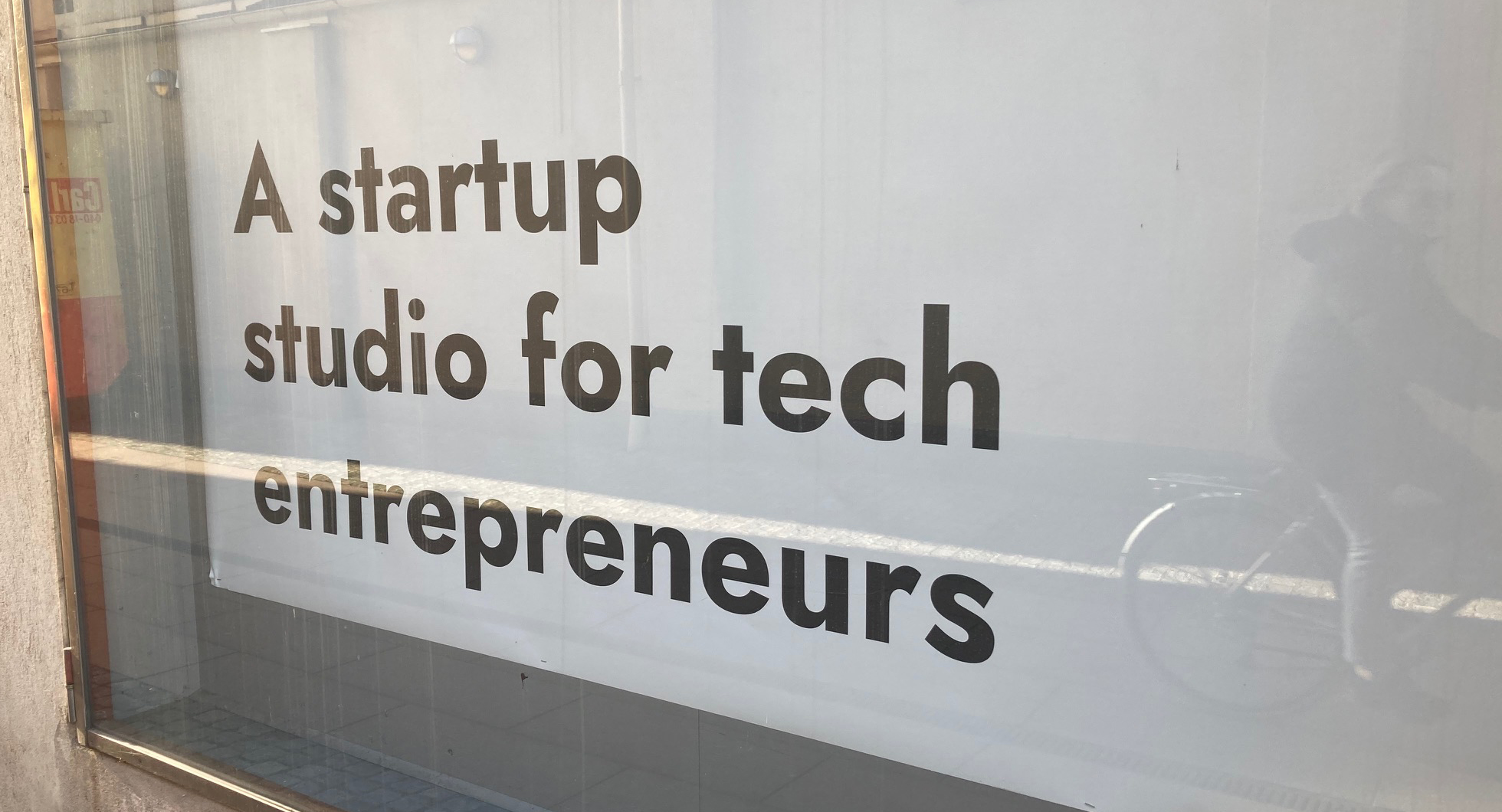 2021
Award #7
The Boligbot rules! Our publisher partner Bergens Tidende secures silver in three INMA Global Media Awards categories for their brand new Homes Sales section. Entirely populated with robot generated content. And attracting new subscribers.

2021
Go West!
This is the theme for the second half of 2021. The first publishers from the other side of the Atlantic to sign up are McClatchy (US), El Espectador (Colombia) and Antorcha Deportiva (Guatemala). We ride on....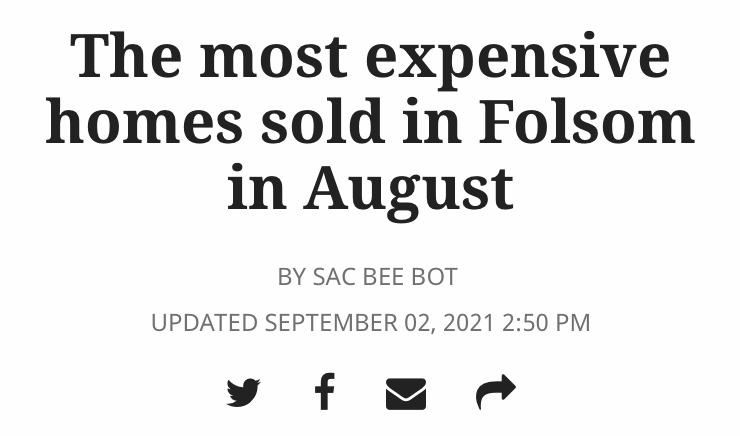 2022
Junior sports go automated
Junior sports matter to local readers! Q1 2022 Forum Communications in the US and Scottish Press & Journal go live with automated match reports of local junior ice hockey and football respectively.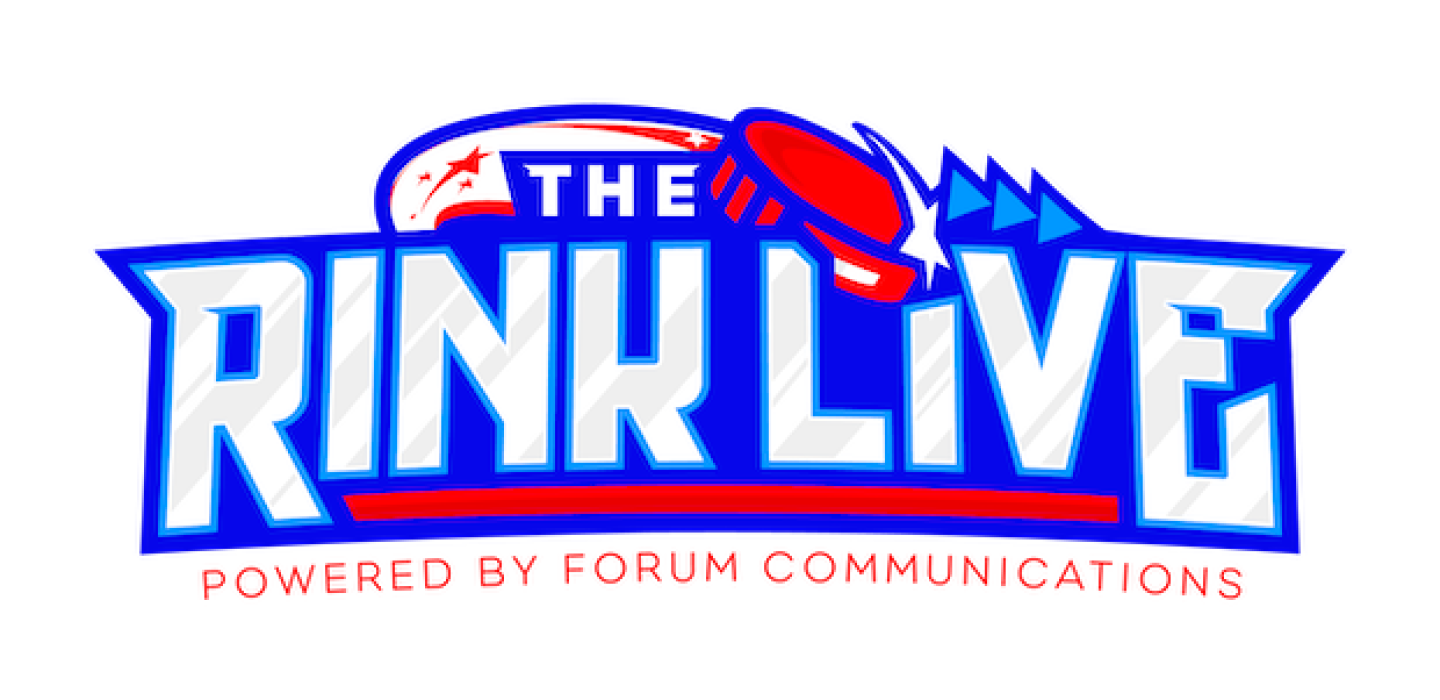 2023
We're "One to watch" in THE future report
A tick on our company bucket list! In March we're named as "One to watch" in the 2023 Tech Trend Report from the Future Today Institute and its famous founder Amy Webb. Announced at SXSW!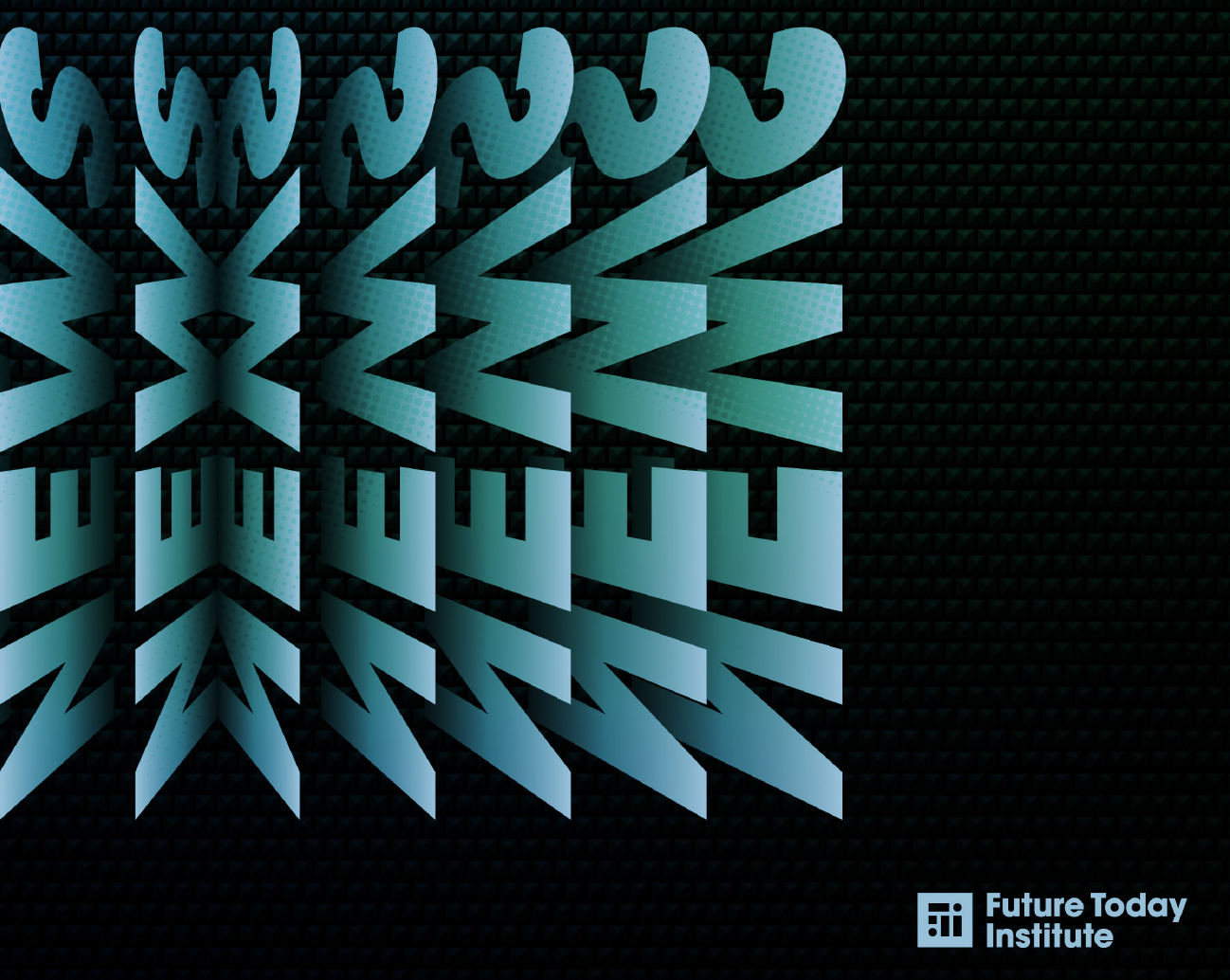 Lars – Business Development
Johan – Business Development
Valeria – Customer Success
It's all about the journey...
We're an innovative company in a nascent field. We develop products that have never existed before. Only the imagination of our team – and our customers – set the limits of our innovation. We work in close partnership with our customers. Our mission is to automate all content processes that can be automated, and in the process create positive business effects. Every day, our world leading team are driven to create new AI and NLG based solutions that work for our clients right off the bat.
Language nerds
In NLG, we're the artists – we build solid tech with a real flair for language. These are things that really matter to us – and our customers: Stellar syntax, variation in vocabulary as well as topic-specific slang, flowing narrative and all the tiny nuances.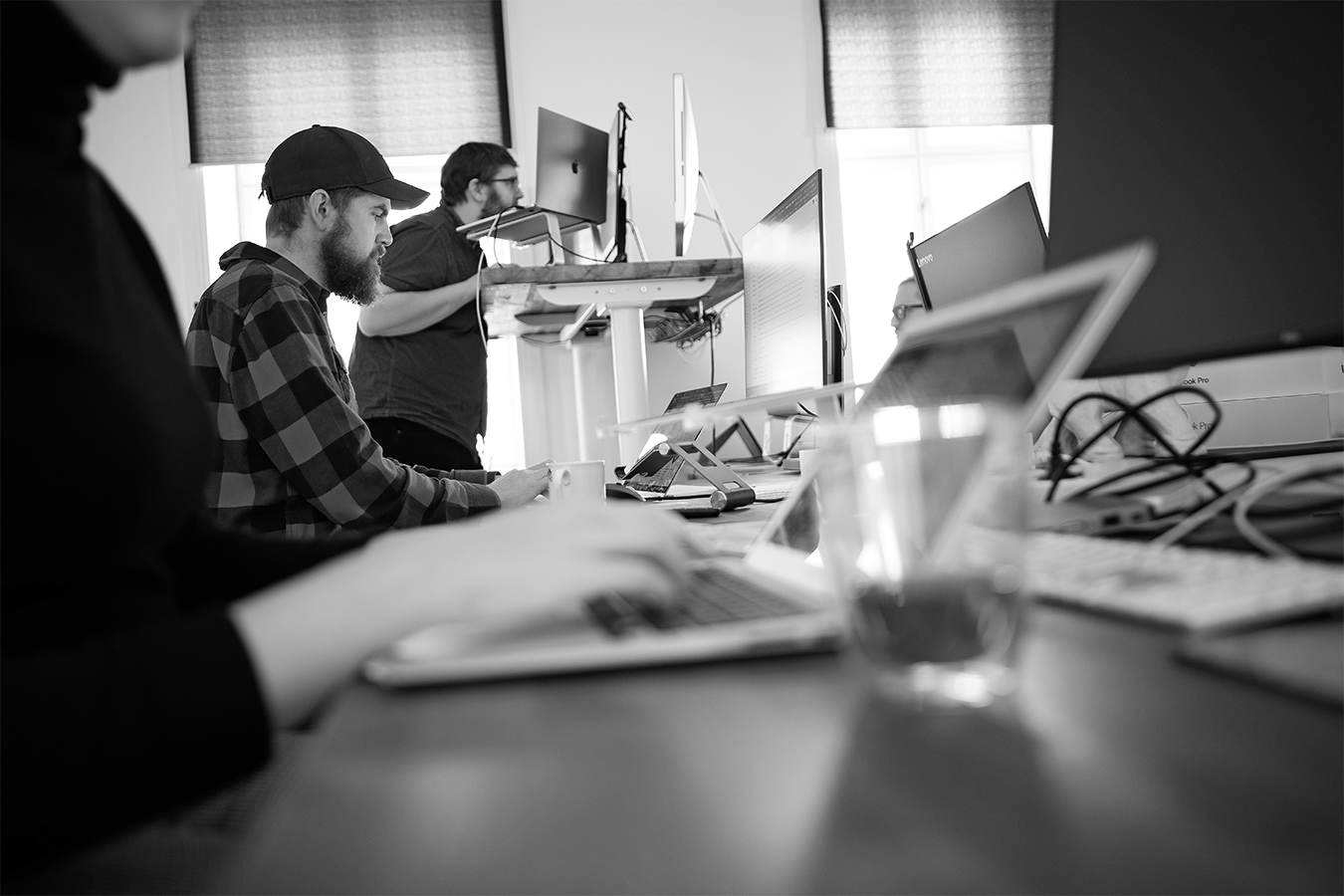 Our innovation is supported by our culture…
We value innovation.
We build solutions that have never been attempted before, in an industry that has just been born. Only the imagination of our team – and our customers – set the limits of our innovation.
We need you to go into the unknown with us.
We value freedom.
It's not about when, where or how you work, it's about what you deliver. We support a healthy work-life balance by allowing everyone to define their own perfect working situation – the timing, the environment, the tools.
We give you freedom, you give us your very best.

We are collaborative and quick-footed.
We work towards common goals. We have a strong team spirit, solve problems together and look after each other.
If you spot a problem, you own it.
We work in a context.
Everyone's contribution to our product is clearly delineated and valued.
We expect you to care about the big picture.

We value transparency.
Transparency guides how we treat both our customers and each other.
We tell it like it is, and want you to do the same.
...and Malmö's best baristas
Mission control is at Djäkne, Malmö's top startup studio & coffee bar, where we're provided with restorative sustenance (breakfast, ginger shots, smoothies....) and killer coffee all day, every day.
Address
United Robots AB, Djäknegatan 9
211 35 Malmö
Social