Automated business content for every local community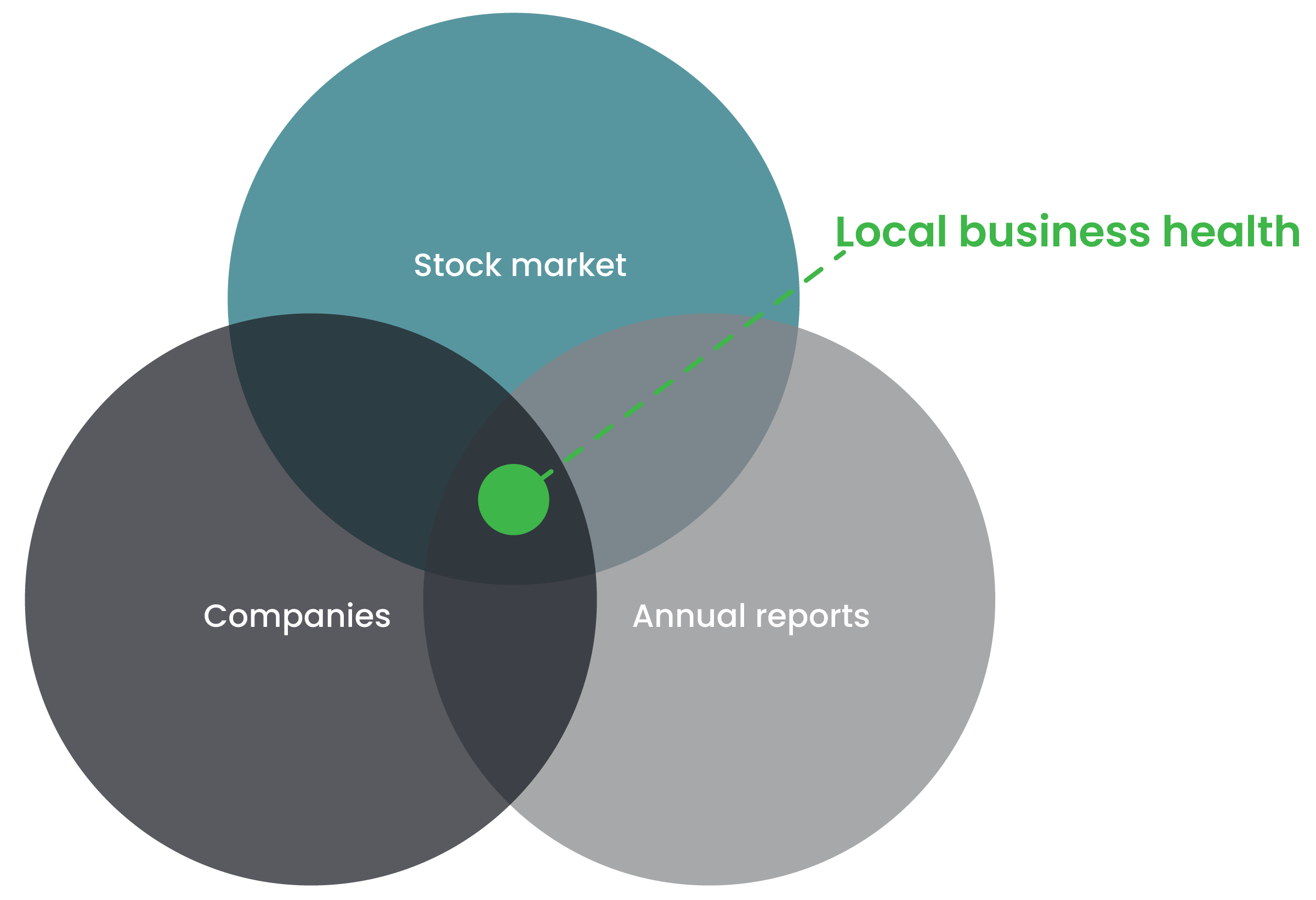 Thanks to automation, you can now deliver comprehensive business news on hyperlocal level. Business news has always been a valuable service to readers, but traditionally the focus was often either on big stock market companies or whatever smaller business news local newsrooms had the capacity to cover.
It's now possible to paint a full picture of local business life. By combining automated news on company registrations / bankruptcies, annual reports and the stock market, publishers can drive value for readers.
With automated business content publishers can:
• Drive conversions
• Offer follow functions to readers, e g "track your competition"
• Surface scoops (newsdesk alerts on stories detected in the data)
Our automated business content services
Company registrations and bankruptcies
Do you want to serve readers with comprehensive information on newly registered or bankrupt companies locally, regionally or nationally? Then use our companies service.
Texts contain information on company name, name of owners/other functions, location, type of business/industry, the role of the owner/s, stock share/capital. More information can be added if there's more data to base them on. Texts are based on data from trusted data suppliers like Bisnode or other equivalent commercial or public sources.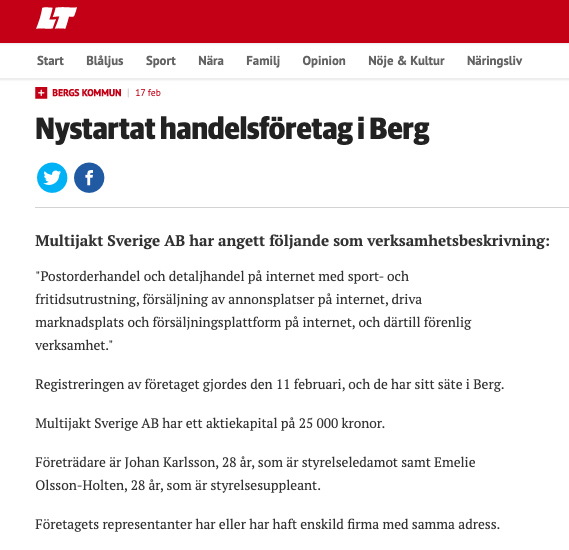 Segmentation by sector or geography
Texts can be grouped for the type of sector they operate within and since we apply any kind of metadata to texts, they can also be distributed on sites or in apps down to hyperlocal level.
People of interest
The service can also link company information with a pre-set list of people of interest. Then, each time a person on the list is involved in a registered or closed company, the newsroom gets automated alerts.
News desk alerts
The companies service includes automated alerts to newsrooms/editors when texts contain certain set criteria
Annual reports in digestible form
Our newest addition of content services, the Annual reports tackles the cumbersome task of turning companies' annual reports into short, readable articles and visuals. This type of business content drives engagement for readers who are interested in local businesses and specific industries.
The annual report content includes an easy-to-understand summary of the companies revenue, profit, and profit before tax. The robot also collects information about companies' number of employees, CEO salary, dividends and includes this in the article.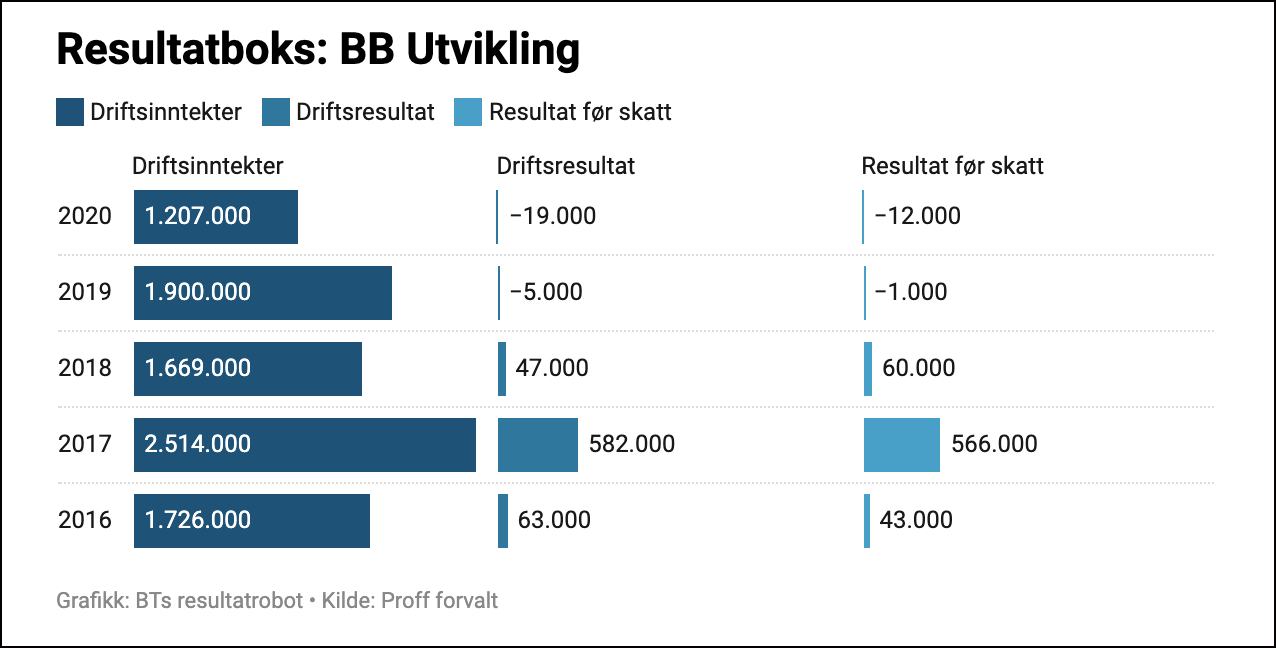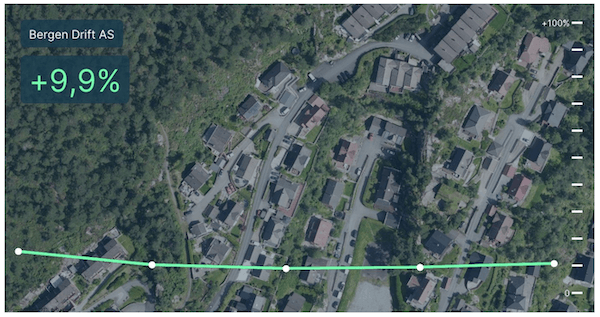 Extended analysis
With additional data sources it's possible to do analysis at various levels
Comparisons with other companies
In addition, the articles include comparisons with other companies in the same industry.
Images
Aerial photographs and auto-generated bar graphs make the annual reports visual for the reader. (see above)
Real time stock market updates
With the stock market service, readers get automated and accurate information about day-to-day single stock performance as well as historical single stock data. The robot also compares single stock performance to general indexes, daily and historically. Texts are generated immediately after daily stock exchange closing. Texts are based on data from any chosen stock market database, such as OMS, Intrinio, Nasdaq, or other.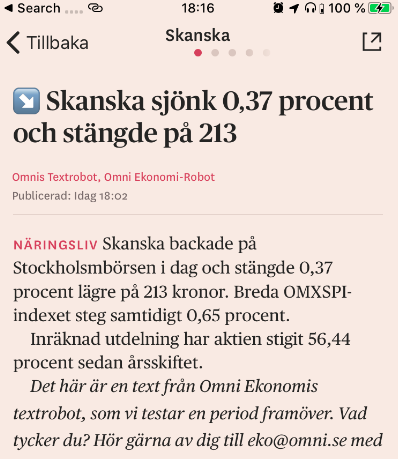 Expanded analysis
Finance is a very data rich sector, and depending on the data source, we can provide expanded texts, where we look at trends and analysis per industry etc.
Inserting comments and analysis
With our unique Q&A framework, we can auto-insert analysis or comments form internal or external experts or commentators into published texts.
News desk alerts
The service includes stock alerts to the newsroom on any selected company stocks and on any selected trigger values.
Address
United Robots AB, Djäknegatan 9
211 35 Malmö
Social