Real time stock market updates
With the stock market service, readers get automated and accurate information about day-to-day single stock performance as well as historical single stock data. The robot also compares single stock performance to general indexes, daily and historically. Texts are generated immediately after daily stock exchange closing. Texts are based on data from any chosen stock market database, such as OMS, Intrinio, Nasdaq, or other.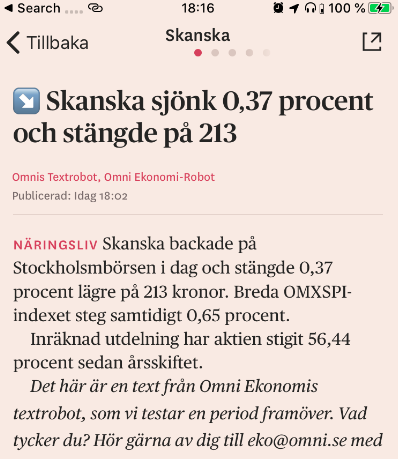 Expanded analysis
Finance is a very data rich sector, and depending on the data source, we can provide expanded texts, where we look at trends and analysis per industry etc.
Inserting comments and analysis
With our unique Q&A framework, we can auto-insert analysis or comments form internal or external experts or commentators into published texts.
News desk alerts
The service includes stock alerts to the newsroom on any selected company stocks and on any selected trigger values.
Address
United Robots AB, Djäknegatan 9
211 35 Malmö
Social