Two Swedish groups live with automated business articles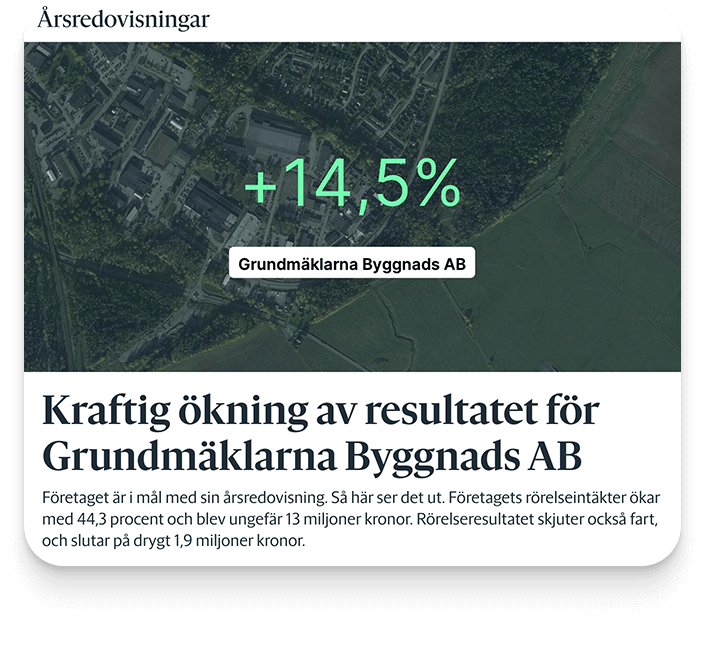 Swedish local media group Stampen was the first in the country to publish our new automated business articles, based on annual reports, on their sites Hallands Nyheter, Hallandsposten and TTELA in April.
A few weeks later, another major Swedish local media company, NTM, followed suit, publishing the business articles on Upsala Nya Tidning. NTM have also opted to include the automatically generated data visualizations we offer via our new partner, Norwegian data visualization experts everviz.
We've developed the new business articles together with Norwegian regional publisher Bergens Tidende. Sweden is the second country where we offer this valuable local business content.
Our Chief Product Officer Henning Johannesson comments: "We launched this type of content together with our Norwegian client BT last summer. Judging by their results, this is content that readers are really interested in. People want to know how the local pizza place, the petrol station down the road or the high street hairdresser are doing as businesses. Now we can report on Swedish companies too. By using data from companies' annual reports we're able to generate articles on all limited companies in any geography."
Suzanne Werner, web editor at TTELA says: "At TTELA we want this content in order to get leads on more local business news stories. We have plans for extended business coverage, and through the automated content we'll get information about dividends, hirings and how well or badly a company is performing."