Local media group go all in with robots to cover news deserts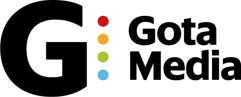 Problem solved: Gota Media publish automated stories about sports, real estate, company registrations and traffic in order to provide regular updates in all its local communities.

"Gota Media want to leverage current industry developments. By automating routine reporting, we free up editorial time and resources to create more qualified journalism which adds value for our readers and support our reader revenue business. And while we have razor sharp focus on local content, we still have white spots on the reporting map. With automated texts we ensure readers in these areas too, receive regular updates about local events."

Peter Sigfridsson, Head of Production Development
Local media group Gota Media is the latest of a growing fleet of Scandinavian publishing houses who see the value of automating as much of their routine reporting as possible. Across the group, they publish automated sports match write-ups and pre-match texts, real estate sales articles, texts about company registrations and bankruptcies, traffic incident updates and also use the Breaking Desk newsdesk alerts solution.
For Gota Media, robot journalism is about reaching and servicing all readers with current content. With limited newsroom resources, the automation strategy is to provide regular updates in all local communities.
The constantly updated local content also underpin the reader revenue business. With a conversion rate of 2%, the Real Estate Robot is currently the best converting byline across the group's ten news sites. Head of Production Development Peter Sigfridsson says: "Publishing automated real estate texts has been a great success for Gota Media. We're currently further elevating the homes & living content on our news sites, with the automated real estate texts as a foundation."
To this end, the real estate robot provides a solid content base for the publisher – in January (2021) it produced 1,667 articles. The figure for 2020 as a whole was 17,778, equivalent of 7% of all published articles.
Read more about how automated journalism can support local newsrooms